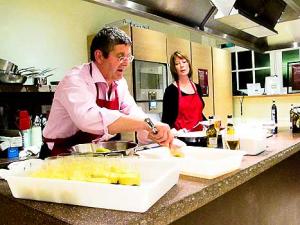 Giancarlo Caldesi has been at the beer. 'We've gone through boxes and boxes,' he tells me as his wife Katie looks on approvingly. It's all been in the aid of science though, using Birra Moretti beer as an ingredient of some dishes that we are about to eat.
Birra Moretti are sponsors of La Dolce Vita, the four day festival of Italian food and drink in London.
In its Italian homeland, Birra Moretti is the best performing beer brand of the last ten years. It's a beer of considerable renown and with a great reputation. This dates back to 1859 when the brewery was founded in Northern Italy in 1859. But it wasn't until 1942 that the iconic image by which it's instantly recognised came into being, when the founder's nephew Leo Menazzi Moretti spotted an old man with a resplendent moustache enjoying a beer at a local trattoria. In exchange for one more Birra Moretti, the man agreed to have his picture taken. Since then, the old man's image has been on the label and gone on to become an Italian design classic.
Katie and Giancarlo are now brand ambassadors of this beer. No wonder Giancarlo looks happy. They spent time with Antonio Facciola, who is the head chef of Ristorante La Brisa in Milan, and have developed some classic Italian recipes using beer as an ingredient, including a white risotto made with beer instead of wine.
As Katie says 'It's important for us to show that you can cook with beer like our UK ancestors did in recipes like beef and ale pie and beef stew cooked with beer. It's going to work really well; it used to work years ago it's going to work now. We need to reintroduce cooking with beer to the UK.'
First some hands on practical, this is after all Caldesi's cookery class kitchen after all. Katie hands out balls of risen dough having first demonstrated how she makes pizza dough with fresh yeast and some Biretti beer. 'You may not actually taste the beer in the finished base, 'she says,' but it will give the base lightness and air.' We twirl our bases about semi-professionally, and then add some reduced tomato sauce plus some basil and mozzarella. 'A pizza should be thin crust, simple toppings,' points out Giancarlo moving off toward the ovens.
For those of you, like me, who don't own a 'pizza stone', there is a simple solution as Giancarlo demonstrates. He upends a baking tray and places it in the oven 'turned up to maximum!' When it's red hot we slide our pizzas from our semolina lubricated wooden boards straight onto the tray and shut the door. Three minutes later some very passable pizzas come out.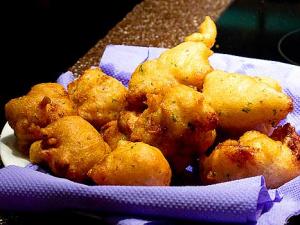 Now some Fried Prawn and Parsley Dough balls. Salty fried foods are very popular in Naples especially the ones made with local seaweed. Not being all that easy to obtain here in London, they've substituted chopped cooked prawns 'from the supermarket' says Giancarlo, 'nothing fancy' and parsley. The batter is made from fresh yeast, and beer of course, and left to rise. 'Even better leave it in the fridge to rise slowly overnight, it develops a wonderful acidity.' Spoonfuls are dropped in hot oil for about three minutes and they puff up and go a tempting brown. We eat them greedily, they're still dangerously hot, but we can't resist.
And so we go on, dish after dish made by Giancarlo and Katie in friendly, if waspish, competition. Katie has of course written a brilliant Italian cookbook that is rarely out of my reach. The Milanese Bolognese, made with little more than slow cooked stewing steak, carrots, onions and beer is remarkably tasty. Nothing like a Spag Bol and great value too, using as it does a cheap cut of meat. Katie cooked it but Giancarlo is eating it, 'it's very good, very good,' he mumbles, mouth full, nudging me in the ribs to go get a plateful as he packs a hefty portion away himself.
Sausage, pepper and beer stew is another deceptively honest, simple dish, packing more flavour than many a gussied up Michelin creation. Beer pancakes stuffed with crab in a spinach sauce are just divine
A selection of desserts made, yes with beer in the recipe, including some pear fritters, soon have me looking around for a chair to sink into. This is a proper feast and the unlimited bottles of Birra Moretti coming my way do nothing to increase my ability to stay upright.
Cooking with beer is a good idea. Cooking while drinking it, maybe less so. Great fun though and the recipes are simple enough to make it possible. Cheers!
Find all the great recipes here.
La Dolce Vita runs from 11-14 March 2010 at the Business Design Centre in London.