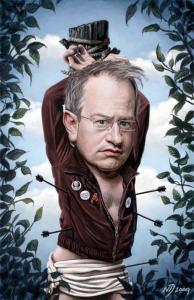 The Brickhouse supper-club and performance venue is delighted to announce that it will be hosting a showcase of the country's most thought-provoking and insightful comedians.
Launching Tuesday 16th February, 'Philosophy for Dinner' will be an hilarious feast of social commentary and political comedy with a twist. Expect the unexpected with a host of visual delights and musical treats to additionally excite the senses throughout the venue's three floors.
Guests can sample the fabulous food on offer at The Brickhouse while watching the different performances throughout the evening. The five course set menu is just £30 including entertainment. With dishes that change on a fortnightly basis, compiled by talented Head Chef Matthew Reuter, expect to enjoy such delights as crispy pork belly or pan-fried salmon with crushed new potatoes. (Full menus below)
Alternatively guests can prop up the ground floor cocktail bar and enjoy the extensive range of wine, champagne and cocktails that the venue has to offer. The top floor Bed Bar provides an area to recline, drink and snack as the acts happen below.
The critically acclaimed comedians will be joined by a host of magicians, impressionists and musical acts throughout the night, ready to shock, impress and delight the audience – making it the most varied and captivating comedy evening in London.
An eyebrow-raising journey of hilarity, intrigue, sarcasm and side-splitting laughter, dine on Philosophy for Dinner at The Brickhouse this Tuesday.
ABOUT THE COMEDIANS
SHAPPI KORSANDI
Shappi Khorsandi was born in Iran but early in her life her family was forced to flee to London after the Islamic Revolution, as her father Hadi Khorsandi published a satirical poem perceived as critical of the revolutionary regime. Shappi was raised without any religion and wishes that Iran would install a more moderate leader- a Mullah-lite.
Shappi's new book A Beginner's Guide To Acting English is available at Amazon.co.
"Remarkable" – The Independent
"Whip-crack jokes" – The Sunday Times
"The warmest, most engaging performance styles I've ever seen" – The Observer
"Don't be fooled by her innocent looks, she packs a deceptively powerful punch" – Evening Standar
"Britain's best young female comic by any yardstick" – The Guardian
ROBIN INCE
Robin is well known as Ricky Gervais's support act from his 'Animals' and 'Politics' shows. He also stars in Series 1 of The Office. Robin has written for 'The Early Edition' and 'The 11 O'clock Show'. His atheist extravaganza Nine Lessons and Carols for Godless People was recently screened on BBC2.
"Imagine Bart Simpson's bespectacled friend Milhouse growing up and becoming a comedian and you will have a reasonably accurate picture of Robin Ince in your head" – The Guardian
NICK DOODY
Former Bill Hicks support act Nick is quite simply one of the most brilliant live acts around. Writer of the brilliant Radio 4 series 'Bigipedia'
"Nick Doody can be dark as night, if needs be, when a demonic glint comes to his eye. But the key to his appeal is a fierce intellect,a challenging outlook and the talent to craft brilliant, original jokes around the biggest of issues" – Chortle
TIFFANY STEVENSON
Tiffany began standing up in 2005. As an actress she has already worked alongside well known comedy talent such as Ricky Gervais (The Office) Jon Bird (Chambers) and Stephen Fry (Absolute Power). In 2006 Tiffany burst onto the Edinburgh scene with a lead role in the European premiere of Talk Radio helmed by Stewart Lee. In 2007 Tiffany and Phil Nichol brought their sell out London show Old Rope to the fringe
"Tiffany brought glamour and comedy to the evening" – The Times
"Had me and the rest of the audience in stitches" – What's On Stage
THE MENUS
REGULAR
Sweet potato and bacon soup
Sour cream/olive oile
Salmon
Soy/cress/sesame
Duck breast
Celeraic puree/spinach/roast fig/Madeira jus
Cheese selection
Homemade bread and biscuits
Dark chocolate mousse
Baileys caramel/sugar tuille
VEGETARIAN
Roast parsnip soup
Honey/olive oil/crème fraise
Sun dried tomato and goat's cheese tart
Balsamic/rocket salad
Mushroom ragout
Courgette fritters/cheese straws
Cheese selection
Homemade bread and biscuits
Dark chocolate mousse
Baileys caramel/sugar tuille
The Brickhouse
152C Brick Lane
London, E1 6RU