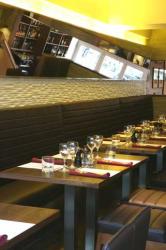 Charlotte's Bistro, a new restaurant from the team behind popular Ealing Common stalwart, Charlotte's Place, has just opened at 6 Turnham Green Terrace, managed by owner Alex Wrethman, with head chef Cameron Hill preparing his take on classic bistro dishes. Cameron is moving across from Charlotte's Place, where he has spent the last couple of years as head chef, and where Greg Martin has taken over.
Cameron's à la carte menu is accessibly priced, with most starters at £6, mains around £15, and several dishes available in starter or main-sized portions. Dishes might include a smoked haddock & sweetcorn chowder or a ham hock terrine with English mustard & parsley dressing, pickles and toasted baguette; with coquelet breast & leg with girolles, jus gras and macaroni cheese; beef onglet with hand-cut chips; or Cameron's version of bouillabaisse amongst the mains.
Sundays feature an all-day menu, priced from £12.50 for just one course, which includes traditional roast British beef with Yorkshire pudding and roast vegetables and gravy; or Hoegaarden beer-battered pollock fillet with mushy peas, hand-cut chips and tartare sauce. A regularly changing 'quick lunch' menu is priced at £12 for two courses, which might include gravadlax, cucumber & dill with wholegrain mustard dressing; followed by roast duck breast, spinach & bacon salad with raspberry vinaigrette
At the front of the restaurant is a bar area, dominated by the feature 'storage tower' of bottles, where guests can enjoy anything from a coffee or tea during the day, to a glass of wine or Prosecco, or a bespoke cocktail mixed to order by the barman. There is seating, including bar stools, for those just wanting a drink, although food isserved here, as the bar stools offer a good place for people-spotting through the large front windows. The walls are hung with interesting photography of London, including many shots of Turnham Green and the West London area.
The main dining room features walnut wood and leather banquettes, and is full of natural light, thanks to a huge skylight. It is decorated with unusual, eye-catching lamps, and a champagne-coloured, pearlescent textured wall feature, to soften the hard lines of the wood.
Charlotte's Bistro is open Monday – Saturday 12pm – 12am, and Sunday 12pm – 11pm.
Charlotte's Bistro – 6 Turnham Green Terrace, London W4 1QP; t: 020 8742 3590
Charlotte's Place – 16 St Matthew's Road, London W5 3JT; t: 020 8567 7541