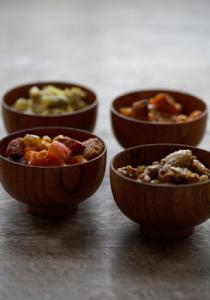 We love a ready meal at Foodepedia, mostly because we're always ready to eat. If it can be slammed into a microwave and nuked to perfection in minutes then it gets our nostrils twitching. Some people may pretend to like a cold and wet sandwich from the well known chain, but we like our lunches hot and satisfying
Stewed! Have met our addiction last year with gourmet stews rich with veg and meat and lifted by some crafty spice additions. There are no additives or preservatives and the range of flavours is impressive. We've eaten in restaurants that would have served customers better if they had stewed! Instead.
The only problem previously was that we had to share the sizeable pots, but now all the stews also come in one pot 'solutions', so that we can each have the flavour we want with no unseemly squabbling. Plus we hate sharing, we're all 'only children' you see and have never had to.
There's been a few additions to the range too, with Hungarian Goulash (stew) coming in through Customs. It has the all important blast of sweet paprika, the glossy stop-light sheen of red peppers and some very good meat. Add the authentic taste of caraway seeds and it has all you need to keep you going through the afternoon.
What's the range is being sold at at £1.00 off in Jamiesbury's for the next few weeks. Even more reason to have a proper hot lunch.
the stewed! range
Hungarian goulash stew (£3.79 / 325g pot) – chunks of slow-cooked British beef with potatoes, sweet paprika, caraway seed, red peppers and kidney beans.
Chickpea, sweet potato and feta stew (£3.79 / 325g pot) – chickpeas cooked with hearty veggies, smoked paprika and saffron, laced with crumbly feta cheese and sweet potatoes.
Equally good cold as hot. (V)
Chorizo, chickpea and pork stew (£3.79 / 325g pot) – slow-cooked chunks of tender British
pork, lovingly combined with smoky, preservative free Spanish chorizo, chickpeas, some
fresh, hearty veggies and smoked paprika.
Moroccan chicken stew (£3.79 / 325g pot) – whopping chunks of tender chicken, cooked
with potatoes, juicy green olives, tangy preserved lemons and a sprinkling of exotic spices.