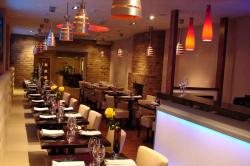 Is it just me or has Diwali become the must-do celebration this year? I seem to have had many more e-newsletters than usual, from the Indian restaurants I follow, all encouraging me to drop in during this annual festival of lights. It's inevitable in strapped times when everyone is thinking twice before digging into their eating out fund that restaurants have had to become ever-more inventive in their attempts to attract our custom. For the discerning diner, that does not mean chasing two-for-one, or free starters or puds, offers at dull chains. Value for money is more important than price – and so is quality.
Discovering that Namaaste Kitchen in Camden is offering a seven course tasting menu, with a glass of wine matched to each one, for £44.95 should be enough of an incentive for you. It is extremely good value. And it was extremely good to eat and drink too.
The evening we went – the first night of the special Diwali tasting menu – a sitar player plucked away creating its characteristic echoey twang, softened by the gentle drumming of a tabla player. For all its subtlety, it was a marked and welcome contrast to the hard-nosed hustle of Camden's Parkway.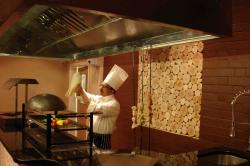 The room was filled with warmth, from the friendly welcome, to the pink-red glow of the lighting and its thoughtful layout – a long, coffee-coloured banquette down one side of the room; a mixture of square and round tables; a couple of booths offering ringside seats at the open kitchen grill.
Diwali candles, in tiny painted clay pots (close, but more decorative, cousins of the small clay cups chai wallahs proffer to travellers as their trains arrive at stations in India) topped with a flutter of glitter decorated each table. Chef-owner Sabbir Karim (who also runs Salaam Namaste in Bloomsbury) bought them on a recent trip to Bombay. The atmosphere was of subtle sophistication; it felt as if we were a continent away from the scruffy thoroughfare outside.
A glass of Saumur Brut arrived. Made using the traditional method for champagne, its bubbles filled my mouth with a thick but fine foam – the sign of a very good fizz. Aromatic, fresh and with an exceptionally long finish it was the ideal pick-me-up after a day's grind. All the wines at Namaaste Kitchen are chosen by sommelier Cyril Abel, as enthusiastic as any wine expert but able to give down-to-earth, easy to grasp explanations of the reasoning behind the pairings.
He told us that, in France, the rule is that you always have Muscadet (not any white wine) with fish. The one he poured, a 2009 Muscadet Sur Lie, was powerful, floral and rich; it held up well against our spicy first course – perfectly cooked kadhai spiced pan seared scallops with a charred tomato salsa that had more than a slight Mexican kick, mellowed by mango and a contrasting bit of crunch from toasted cumin seeds.
Tandoori Portobello mushrooms came next – perfectly cut triangles, beautifully presented, stuffed with an imaginative mixture of figs, cashew nuts, raisins, green chilli and paneer, softened with a light curry leaf dressing. There was a touch of Christmas about it – all those dark, rich fruit and nuts – and thoughts of a full bodied red wine crossed my mind. Instead, a 2008 Italian white wine (Lombardia, Castelo di Luzzana, Malvasia secco) added a buttery hint of sweetness while remaining light and dry. It was a very clever match.
I won't spoil all the surprises – two more delicious starters and a main course, a choice from three (fish, chicken or lamb) followed – but one element that seemed odd proved to be very well-judged. It was the first time I'd had a cheese course in an Indian restaurant and, no, it wasn't paneer (its delicate flavour lends itself to being smothered in a full-bodied sauce, not served on a piece of slate as a pre-pudding excuse for finishing the wine). Instead, slivers of creamy Capricorn, Montgomery cheddar and stilton – with a dollop of apple chutney – proved to be an unexpectedly light palate cleanser. The Coteaux du Layon, another Loire valley wine made from the same Chenin Blanc grape as our first wine of the evening, appeared. Harvested later when the grapes have been affected by noble rot (or botrytis), it was full of sugar and went especially well with the stilton.
Namaaste Kitchen's biggest challenge is its location – a suburb of London that people flock to when looking for a bargain, which is exactly what this Diwali tasting menu is. If your eating out decisions are driven by your wallet, while hoping not to sacrifice taste, Namaaste Kitchen in Camden should be on your must-go list. And, if you want to experience its special Diwali tasting menu – seven courses, each matched with a wine – you must-go soon; the special menu extravaganza lasts until Saturday, 29th October.