Aside from all the cobwebs, fake blood and vampire fangs, Halloween is a time when food and art can mingle in a monstrously marvelous way.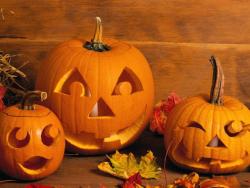 The carving of the ubiquitous jack-o-lantern is a ritual any family or Halloween junkie will attack with equal measures of enthusiasm and frustration. From the scooping of the seeds and the starchy, orange mess to the proud (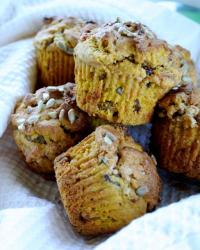 or potentially embarassing) display of the completed jack-o-lantern in the window, communion with the pumpkin leaves us with more than just it's glowing carcass.
The left over flesh from the sacrificial squash is a boon unto itself. You can turn carving day into a gourmet feast of soups, breads, cakes and pies. I know it's old-fashioned but my personal favourite is the Rick Rodgers Pumpkin Pie with a hazelnut crust. Made even more kitchy with a squirt of cream-in-a-can, this is comfort food at its finest.
I know pumpkin pie is not everyone's cup of tea, so I've done my homework and found some great recipes that will have you carving out pumpkins just so you can try them out. I've been in touch with some bloggers and found recipes for pumpkin muffins, pumpkin pancakes and a spicy pumpkin soup.
Shannon from The Curvy Carrot blog shared her pumpkin muffin recipe, with sweet mouthfuls of pumpkin, golden raisins, pecans and seeds.
Hannah from the Honey & Jam blog got creative with her left overs and created a whole grain pumpkin pancake recipe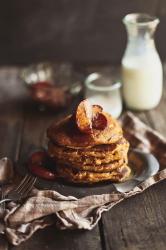 m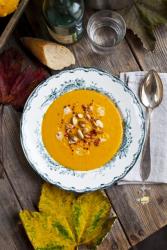 ade with buttermilk and other wholesome ingredients served up with an apple and maple compote.
Finally Donel Skehan, Ireland's answer to Jamie Oliver, has been kind enough to let us take a sneak peek at his roasted pumpkin soup with chilli and coconut recipe from his new book Kitchen Heroes. Even more exciting, Donal's given us a copy of his fantastic cook book to give away to Foodepedia readers, with more info below.

To find out what's doing the rounds this Halloween, check out these creepy cocktails, being served at Covent Garden's, Dirty Martini and find out what Harrod's has got in store with a look at the latest sweet treats from chocolate eyeballs to glow in the dark skulls.
To Win Donal Skehan's Kitchen Heroes Book, just comment on this article, telling us what your favourite pumpkin recipe is. We'll pick a winner from the recipe we like the best.