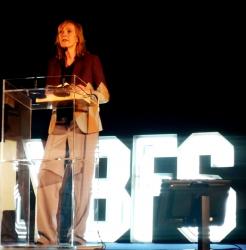 The'Young' refers to products, not the entrants – anyone can be nominated for an award over nine categories.
Now in their fourth year, the YBFs were founded by food journalist Chloe Scott-Moncrieff, Taste PR founder Amy Thorne and Lily Vanilli founder Lily Jones, with the mission of highlighting the waves of talent that emerge onto the scene year after year, from chefs to bakers to dairy farmers.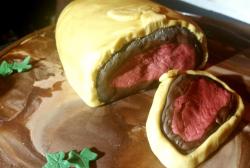 Each category was judged by its own specialist judges, for example the decision of the best food writing was taken by Fay Maschler, Marina O'Loughlin and Tracey MacLeod, while the fate of the meat entrants was given to Richard Turner, James George and Neil Rankin.
Chloe Scott-Moncrieff explains;'From butchers to bakers to mead-makers, Britain's next culinary generation were all at The YBFs 2015 at Tate Britain last night.  Some pulled stalls to serve from, others came armed with Pacojets and cocktail shakers. Together, they filled the galleries with a frisson, showing that Britain, despite the endless economic doldrums, has a swaggering confidence in food and drink. These creative craftsmen and women are the future of food in Britain.'
The winners in each category were as follows:
CATEGORY:      FOOD-WRITING 
JUDGES:           Tracey MacLeod, Marina O'Loughlin and Fay Maschler  
WINNER:          Laura Goodman of sheisbutters.com 
'Laura really has a fresh voice, lots of energy and edge – and really makes me want a slab of tres leches' Marina O'Loughlin
CATEGORY:    ALCOHOL 
JUDGES:          Judged by Tony Conigliaro, Alice Lascelles and Anistatia Miller 
WINNER:        Tom Gosnell of Gosnells Mead 
'The jury loved Tom's product. It was local, steeped in history and tasted great' Tony Conigliaro
CATEGORY:     CHEFS 
JUDGES:           Nuno Mendes, James Lowe and James Knappett 
WINNER:          Adam Rawson of Pachamama 
'Adam's was a little journey. There was a flow throughout his dishes. He was overall excellent'  James Knappett
CATEGORY:    HONORARY 
JUDGES:        Chloe Scott-Moncrieff, Lily Vanilli and Amy Thorne
WINNER:       Matt Chatfield of The Cornwall Project 
'Talk to a food-lover about Cornish produce and they will usually mention Matt Chatfield from The Cornwall Project. Not only is Chatfield  responsible for linking the amazing Launceston butcher, Ian Warren, to luxury establishments such as Claridge's and The Ledbury but he has also single handedly got Cornwall's best producers in pioneering restaurants like Tom Adams' Pitt Cue and James Lowe's Lyles. He's created a Cornish movement' Chloe Scott-Moncrieff  
CATEGORY:    MEAT 
JUDGES:          James George, Richard Turner and Neil Rankin  
WINNER:        Will Yates of Billy Franks 
'In what was another extremely competitive year, Will's single-minded determination to push his craft into unexpected and exciting new territories really stood out – and the beef rump cap he'd cured was simply the tastiest thing we'd eaten all day' James George
CATEGORY:    BAKING  
JUDGES:          Lily Vanilli, Claire Ptak and Tom Baker 
WINNER:        Lucie Bennett of Fleur De Sel 
'Lucie combines classic training with home grown produce and a very unique approach to create beautiful and delicious baking that is unmistakably hers' Lily Vanilli   
CATEGORY:    COFFEE 
JUDGES:          Phil Gevaux, Tim Williams and Marco Arrigo 
WINNER:        Adam Kragiopoulos ofNorth Star Roast 
'This year's YBF winner in coffee typifies so much of what the industry should be celebrating; a genuine connection to the farmers growing our coffee, a hands-on and involved approach to the craft of roasting, and youthful entrepreneurial enthusiasm (outside the M25!)'Tim Williams
CATEGORY:     VEGETABLE 
JUDGES:           Simon Rogan and Claude Bosi  
WINNER:          Phil Walther of Croft Kitchen  
'Phil was a clear winner. He is very imaginative and passionate about what he is doing. He has a fantastic attitude , lots of skill and is a real star of the future'  Simon Rogan
CATEGORY:      STREET-FOOD  
JUDGES:            Petra Barran, Nichola Smith and Claire Kelsey 
WINNER:           Hannah Lovett and Marcelo Sandoval ofY A K U M A M A 
'There are so many things that make a good trader – service, execution, atmosphere, aesthetics, sourcing, good chat but really, when you taste that food and it makes your entire being SING, that's when you know you have a winner. This food is sublime, exciting and made us all jump with joy it tasted so good' Petra Barran
The awards evening has been a celebration of The YBFs and guests were invited to taste the culinary talents of some of the YBF entrants, including ROYBREAD, DECATUR and BABELLE. And back for a third year, guests enjoyed new creative cocktails from Chase vodka, extra sweet honey beer by Hiver Beer and carefully selected Prosecco, white and red wine from Tate Food.