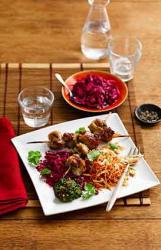 Rainbo Food For Freedom are passionate about bringing healthy, colourful food to Britain's street, they believe that street food should be tasty, nutritious and good for you .
Ingredients:
Chicken yakitori skewers
800g chicken thighs (skinned and diced)
150 g ginger
5 cloves of garlic
1Ž2 bunch of spring onions
200 ml mirin
1 tablespoons salt
60 ml soy sauce
Pickle brine and red cabbage
80 ml Sarsons Pickling Malt Vinegar
80 ml water
50 ml mirin
100 g honey
100 g salt
1 clove of garlic
50 g ginger
1 tablespoon chilli flakes (optional)
1/2 head red cabbage
Coriander sauce
100 g coriander
1/2 tablespoon rice vinegar
25 ml water
100 ml olive oil
1/2 clove of garlic
A pinch chilli flakes (optional)
A pinch of salt (to taste)
Ginger dressing
1/2 clove of garlic
12.5 g ginger
25 ml mirin
90 ml soy sauce
40 ml rice vinegar
Slaw
2 Carrots
1/4 head red cabbage
1/4 head white cabbage
50 g toasted sesame seeds
Method
Make the pickle brine two days before. Peel the ginger, and then blend together with the garlic and chilli flakes. Add to a saucepan with all other ingredients, and put on a medium heat until it comes to a rolling boil. Take off the heat and allow 24 hours to cool completely. Grate 1/2 head of red cabbage, add to the cooled brine and place in fridge. Use from 24 hours up until 2 weeks, for a richer more flavor layered pickle.
Marinade the chicken for 24 hours, before skewering and grilling. Soak skewers for 40 minutes beforehand to avoid burning (if wooden).
For the dressing, peel all the ginger, and blend together the ginger and garlic with the mirin until it turns into a paste. Add the other ingredients. This can be prepared a day before serving to infuse with greater flavour.
Grate the carrots and cabbage, and dress with dressing and toasted sesame seeds 15 minutes before serving to allow to marinate and take on the fresh flavours of the dressing.
In a blender, blend coriander, garlic, vinegar, and water. Slowly add olive oil. Tip into a bowl and add salt and chilli flakes to taste before giving this a good mix.
Grill the chicken skewers on a hot charcoal grill for 6 minutes each side, or until cooked through, or alternatively in an electric grill oven at 180 degrees celsius, for five minutes on each side, or until cooked through.
Serve the chicken skewers over a bed of the refreshing slaw, with the pickles and coriander sauce on the side for a perfect, healthy, delicious summer lunch with friends.