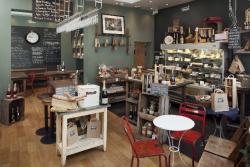 Down in London's Covent Garden, a curtain swish from the grand theatres of Drury Lane, lies a shy canoodling couple up for a bit of exhibitionism. Champagne and fromage are being served together in a little shop-cum-bistro, and they're unashamed of their curious pairing.
Chamagne + Fromage, with its charcuterie and shabby chic as decoration, offers 25 award-winning grower Champagnes as well as a range of half bottles and accompanying snacks such as tartines.
The tartines are the owners' pride and joy – half baguettes with toppings ranging from the Auvergne — figs with melted Fourme d'Ambert; La Nordique — salmon gravlax with Langres cheese mousse and a Champagne dressing; and the favourite Champagne – sautéed pear with melted Langres cheese.
The Blanc de Blanc non vintage wine we tasted had a sharp, spriraling bubble with a pleasant metallic sprang and went well with the Comte cheese, while our Michel Furdyna Blanc De Noirs La Loge 2002 made of 100% Pinot Noir was dry, fruity and jiggled well with smoked foods and spicy pepper salami.
The staff will advise you on pairings such as the Furdnya Carte Blanche for terrines and charcuterie but Champers campers can also take part in the monthly Champagne and cheese masterclasses covering how to get to grips with grapes, how to pair cheese and Champagne, and the difference between regions, producers and production techniques.
It's a cute little café offering a touch of hedonism in a land of coffee and cupcakes so, providing you're willing to spend more than the price of a latte, it's definitely worth popping into.
Open on Tuesday to Saturday from 11am – 11pm and Sunday from 11am – 8pm. Closed on Mondays.
22 Wellington Street, London, WC2E 7DD
0207 240 1604