10 Northumberland Avenue City of Westminster, WC2N 5AE thenorthall.co.uk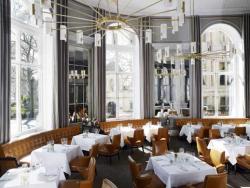 Do you ever have those fantasies, the ones where you check your lottery numbers in the paper on a Sunday morning to find that you've become a millionaire overnight? Suddenly the whole world is your oyster and years consisting of Gucci clad loafing stretch before you: winters in St Moritz, summers in the south of France, living that kind of footloose, stateless existence that only the super wealthy can enjoy.
Well, there is an easier way of dipping your toe in the water and that's just by stepping into the lobby of one of the capital's five star hotels. The type that provides a home away from home for Middle Eastern princes, Russian gangsters and Chinese businessman; where chubby men go to dine with their Amazonian nieces; and restraint is a dirty word.
Of course you might not be able to stay for the night, but a drink at the bar and possibly even some grub are within the reach of most of us who are in gainful employment. So, putting on a clean shirt, polishing my brown brogues and combing my unruly mop of hair into something resembling the Euro-slickster look favoured by Armani models, I stepped into the Corinthia, a relatively new addition to London's battalion of smart hotels. Ready for action, I was in search of the Northall restaurant where I had a dinner booking.
Directed through by a velvety smooth individual, I was invited to wait for my date at our table or have a drink at the bar. Well it was a no brainer: sitting at the magnificent bar, being fed cold drinks and one-liners by the equally smooth barman was the best fun I've had on my own in quite a while. There's nothing quite like a well made Campari and soda accompanied by a couple of salty olives to prick the appetite and set you up for dinner.
With the Campari drunk and the girlfriend in tow, we were then led through to the rather grand Northall restaurant, which, in keeping with tradition, was all tall ceilings, large windows, brown leather and a spattering of enormous Corinthian columns. As you'd expect with a hotel like the Corinthia, they have a couple of restaurants: an Italian specialising in seafood; and the Northall, where there is an emphasis on seasonal food of British origin. They even list pretty much every single producer on their menu, if you're turned on by that type of thing (I am, sort of).
Looking at the Northall's website, they seem to have more menus than you can shake a stick at. A la carte, lunchtime market menu, dinner market menu, bar menu, sunday lunch menu and finally a special offer menu, where you get three courses and a glass of champagne for twenty-eight quid. But to simplify matters, if you eat at 8pm on a Friday night the only option is the a la carte.The food on offer is largely of the classic, slightly clubbish variety: starters of smoked salmon, oysters, chicken liver parfait etc., and mains of steak or lamb from the grill, sole meunière and fish and chips. This is a menu to emphasise rather than challenge their international guests' perception of what British food is. Although I have no particular qualms with that and am more interested in what the food actually tastes like.
However, when it came to the crunch, I went for a fish soup with scallops, mussels, prawns and rouille, aka a bouillabaisse, to start, and the date went for an Asian inspired tuna carpaccio. The youth of today, we just hanker after the international flavours foisted on us by multi-cultural Britain.
Well I have to say, without exaggerating, that the fish soup was the best example of its kind I have ever tried. The soup base was made from red mullet and had all the colour of a Provencal sunset, with an astonishing depth of flavour. It was poured over a couple of mussels, so plump they reminded me of Leslie Ash's lips, a pair of lightly caramelised scallops and a large, beady-eyed prawn. Meanwhile the tuna carpaccio was striking similar notes of satisfaction, with the citrus sharp and gingery hot dressing cutting through the rich and fatty tuna.
Onwards then to the mains: a Lancastrian duck with red cabbage and maple jus, and a Cumbrian rib-eye steak with bearnaise sauce. As a Yorkshireman I had some jingoistic prejudices against my red-rose duck, but it was a blushing pink in the middle and perfectly tasty. It didn't quite reach the heights of the soup, but I fear not much would. The rib-eye was clearly a good piece of meat and had been well treated by the chef. I don't know whether they have a Josper grill in the kitchen, but the steak had all the flavour of a hunk of beef that had been grilled over blisteringly hot charcoal.
To round things off we shared a banana and toffee cheesecake with a chocolate malt ice-cream. The cheesecake was a good rendition of the banoffee classic, and I especially enjoyed the chocolate malt ice-cream, which, in that clichéd Proustian way, reminded me of my favourite childhood biscuit, the chocolate malted milk.
In a grand dining room in a grand hotel, you might have expected the service to be rather formal and starchy, but in all except the very finest of fine dining establishments, that seems to be going out of fashion. Here was no exception and although polished there was none of the horrible formality that makes you feel like you're on best behaviour.
Overall, I liked the Northall, the cooking was good and it is obvious that they are taking care to source quality ingredients. They are not pushing boundaries at the cutting edge of British cuisine, but that isn't what grand hotel dining rooms are for, and if you eat from one of their fixed price menus, there is value on offer. But, if you are going a la carte, with starters at £14-£15 and most of the mains heading towards £30, it will soon become a fairly expensive evening, which is perhaps inevitable in one of London's smartest five star hotels.