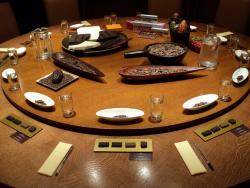 Let's face it, who'd turn down an invitation to taste chocolate at one of the premium chocolatiers in London? I didn't. Apart from giving us a background to the history of the company, and the sourcing of the chocolate they use, the purpose of the tasting was to introduce us to La Maison du Chocolat's summer, Chiberta, range of chocolates.
Gilles Marachal, La Maison du Chocotat's Creative Director gave us some background to the company, about how he took over that role in 2007 when owner Robert Linxe retired from it after 30 years. He spoke about the three different types of chocolate tree, Forasteros, which has a strong flavour and produces some 75% of the chocolate used by manufacturers worldwide, Trinitario, which yields some 20% of annual consumption and Criollo, which is quite fragile and more rare, making up the remaining percentage of beans that that eventually make their way to chocolate producers. Gilles told us that La Maison du Chocolat uses couverture made from the Trinitario and Criollo beans to produce their chocolates as they have finer flavours.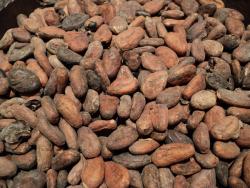 Gilles explained the process by which pods are treated eventually becoming the product we all recognise as chocolate. First there is a fermentation period, essential for developing the flavour. The beans are then dried, before being shipped off to be processed in Europe and elsewhere, where they are roasted gently then roughly ground, before being crushed further and going through conching, which emulsifies the crushed bean into a smooth paste. Soya lecithin is often used to bring the emulsion together before its tempered producing couverture. Once complete chocolatiers like La Maison du Chocolat take the process to the final stage by using the couverture to make their chocolates.
We tasted some couverture, which has no sugar, is intensely chocolatey and bitter on the palate, dark chocolate that was high in cocoa solids and milk chocolate also high in cocoa solids. When asked about the percentages of cocoa solids in La Maison du Chocolat chocolates, Gilles told us that it's about getting the flavours right, not steadfastly adhering to percentages and of course, that makes sense. We then went on to taste the pepper ganache from the Chiberta range, which was divine, before Gilles made up a ganache for us from single bean Criollo chocolate, which had great fruity notes and some smokiness.
These chocolate tastings are a good experience, they're open to the public, currently at a cost of £50 for the 2 hour session, which are run twice monthly on Saturdays, so if you're interested in chocolate and it's perhaps something that you might like to attend, contact the Piccadilli shop.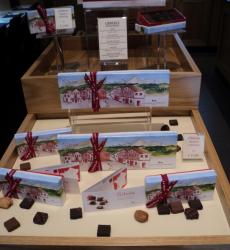 As to the Chiberta range of chocolates, the Eztia is a lovely milk chocolate ganache with honey notes, the Txokolate Lluna is a 'fruity' dark chocolate ganache that has a smokiness to it. The praline macaron has great sweet toasted almond and tiny pieces of crunchy macaron within, the Almond paste with Patxaran is marzipan as you might expect but given some tangy edge from the anise flavoured Patxaran liqueur, and finally the Espeletako Piperra is another dark chocolate ganache with delicate pepper, giving the slightest chilli warmth developing in your mouth.
I need no excuse to taste chocolate, any time anywhere, but this would have been the perfect one if I'd needed it.
For more information about their range of chocolates and other products, go to the La Maison du Chocolat site
La Maison du Chocolat, 46 Piccadilli London, W1J 0DS