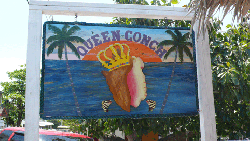 Prized all over the Caribbean region, the edible mollusc conch is nowhere more popular than in The Bahamas, where it is pronounced'conk'. Judith Baker has a nose around the beach and brings back a recipe.
Queen Conch  is as pretty as she is tasty and her rosy pink flared shell is as much a symbol of the islands as the nation's distinctive blue, black and yellow flag.
The famous Bahamian delicacy is eaten in salads and soups; it is steamed, fried, cracked, dressed up and dressed down all over the 700 islands. In the capital Nassau Arawak Cay was, until a few years ago a simple row of tables and chairs looking out to sea. Conch and other fish was prepared in less than salubrious conditions,  But Health and Safety moved in and now the once basic conch shacks have been replaced by spruced up eateries where rich and famous visitors are as happy to much conch as the locals.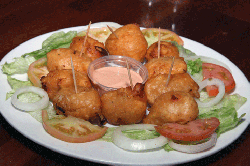 Conch is prized as an aphrodisiac, I am told in D'Waters, a traditional sea front diner at Arawak which is doing a roaring lunch time trade in fish. Second in popularity to conch is grouper, which unlike conch has a closed season to prevent over fishing.  Conch is brought in very day, and as it can be found at 25 or 30 feet, fishermen don't have to work too hard to get it.  Bahamians also think conch gives them a strong back, and eat it every day in some form. My steamed conch comes with a sweetish sauce while around me people are lunching on conch souse and stew.
Further down the cay diners such Frankie Goes Bananas are taking the basic Fish Fry joints up a notch further, with a glamorous martini bar and a modern take on the conch menu. Cracked conch is probably the most popular with younger set, and has a popcorn style appearance on the plate, served with fries and dips.
Conch fritters are little round knobs of conch meat deep fried and a perfect accompaniment to drinks. Not all conch fritters are good, I'm told, as some less reputable establishments puff out their fritters with conch water, but Frankie's are crunchy and tasty washed down with the Bahamas signature cocktail BahamaMama, the local version of the famous Caribbean  rum punch
Conch salad is similar to its Spanish cousin cerviche, and is a simple mix of conch meat, tomato, onion and spices and is sold in cups as a snack and street food as well as a starter in smart restaurants. Some of the most photogenic spots on the islands are the brightly painted conch shacks, many with quirky names.
Bahamians ring the changes to conch salad by adding extra spice. The version I was served in the private home of Nassau  residents Steven and Janice who host visitors as part of the Bahamian  'People to people' programme had an extra dash of scotch bonnet peppers and chillies, which took our group of UK tourists by surprise. Luckily Steven was on hand with a jug of local tipple Sky Juice to wash it down, itself a potent blend of gin, coconut and condensed milk.
Conch salad recipe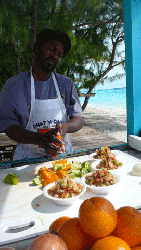 Ingredients
8 oz conch
10 tbsp fresh lime juice
5 tbsp fresh orange juice
1 ripe tomato, diced
1/4 cup diced onion
1 cucumber peeled, seeded and diced
1/2 cup bell peppers (any colour), diced
3 hot peppers (or jalapeno peppers), minced
Salt and pepper to taste
Directions
Wash conch with a mixture of lemon, salt and water.
Clean the conch, remove slime, and cut into small cubes.
Place in mixing bowl with remaining ingredients.
Cover and let the conch and vegetables marinate in refrigerator for 15 minutes.
Mix and serve.
Conch is difficult to acquire in the UK, but abalone or squid makes a good alternative
For further information on the Bahamas see www.bahamas.co.uk