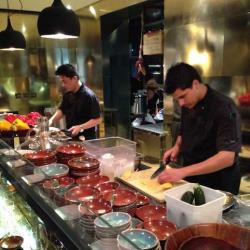 I once met a girl at a party who was half-Indonesian, half-Welsh. I didn't discover how her parents met. Had I, I'm sure the story would have been boring. Any magic I could imagine, removed. The same is true of Japanese-Peruvian cuisine. I really don't want to know why Peru has (or had) a large Japanese population. Like much in human history, I'm sure it has roots that are dull, distressing, or somewhere in between. Peru just does, it seems.
My apathy regarding the two nations' history does throw up further complications – it leaves me ignorant of the exact particulars of Japanese influence on Peruvian food, which seems to be the flavour of the year. They both like fish, that's as far as my knowledge extends; but, I don't know where one ends, and the other begins. Writing on food, perhaps I should take the time to learn. The answer is only 9 strokes of the keyboard away keys away, starting with'W'. I'm a lazy man though and the cumulative effects of an Argentinian sparkling wine, a glass of red, a glass of white and a glass of dessert wine don't help.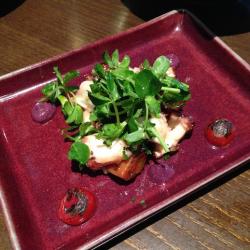 So, here we are, a long Friday lunch at Coya, in Mayfair. A five minute walk from Green Park, past a line of embassies, glimmering car showrooms, and the offices of a Korean shipping company. Lunching in Mayfair, I should feel like an investment manager or, at the least, a very high class estate agent. The problem is I'm wearing Nikes and an un-tucked tie-less shirt. If I sat on the kerb, someone would throw a coin down and ask me to shine their shoes. Clearly, this isn't my usual haunt.
Coya occupies a building that surely impresses more than just lowly freelancers like me. Sturdy, tall ornate doors open-up to an equally ornate staircase, leading down to an opulent and surprisingly light basement. Exactly what I expect from Mayfair, although I did have to open the door myself. I was lucky enough to have a tour though.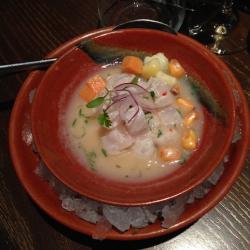 A private dining room with an unexpectedly modern mural (that's as far as my knowledge of art extends) sat behind an extensive warren of a Das Boot kitchen. Tunnels, one man wide, weave this way and that between the various rooms of heat, steam, barked orders and strict instructions glued to the wall. I was glad when we left. It wasn't much fun, stood there, clutching an iPhone in my soft gentle palm, apologising profusely in the Hugh Grant style to the army of true professionals with real jobs, who marched back-and-forth with purpose.
The space and calm of the dining room was welcome, as was the glass placed in my hand and the ceviche placed on the table. This was a'masterclass' where people came to learn the art of ceviche – lessons on perfecting a very popular dish. I contrived to forget it all. Not that I didn't try, I'm just useless at listening, and while Instagram is great for providing visual memories of a meal, it doesn't yet capture sound. Such a shame.
The ceviche was served on ice, I do remember that. A bowl of food sat within a bowl of ice, something I've not seen before. The fish was cold, so carried a similarly fresh feeling to sushi. It was sweet, not overpowered with bitter citrus. Something was said about the first squeeze of the lime being the only part of the juice to use. The memories, like the wine, in full flow. The same can be said of the spice accompanying one of the dishes. A warm sweet spice, not at all overpowering.
Of the courses directly following the ceviche, the octopus was the standout dish. Fired in the Josper oven (everyone loves a Josper!) it was delicate, delicious, and I could have eaten an entire bowl of the stuff. Splendid. Of the mains, the earthy flavours of the mushroom, truffle and potato dish was strangely one of the highlights. I say strangely, as it looked amazing sat on the table, but listed on the menu next to sea bream and sirloin it really didn't catch the eye. I'm very glad we ordered it. The sirloin, not so much. For a Josper'd steak, it lacked that crispy seared outer and juicy locked-in juicy flavour. Instead, it had too soft a complexion and too soggy a texture. I wasn't a fan.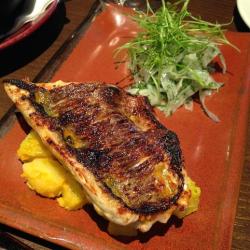 To finish, a salted caramel ganache, served as a long chocolate bar (minus the wrapper) with a side of raspberry sorbet and what could have passed for roe, but was listed as Pisco. Again, Wikipedia could help me decipher this one, perhaps someone else out there wants to instead. Tiny clear sweet balls, with a pinkish outer casing. I've no idea. The ganache itself was as tasty as a pudding ought to be, but nothing to declare your love for. It was also slightly larger than I had the stomach for after the banquet of fish and beer. A bowl of raspberry sorbet would have been preferred. My fault, not theirs.
Coya is a true Mayfair experience, albeit one with a friendly edge. Professional staff smile politely and provide hints, tips, suggestions and as much information on each dish as you're willing to hear. Sitting in the calm restaurant, watching the chefs toil behind bars in the kitchen (literally), you do get the sense of the hard work that goes into each dish.
The ceviche'masterclass' demonstration was meticulous and the finished product delicious. One of the best ceviche I've eaten, although in truth I've not eaten that many. If I return, it'll be with a small army of ceviche fans (all 3 of them) to load up on the fish plates. The octopus I'll keep, the steak meanwhile, I'll leave firmly in the Josper.