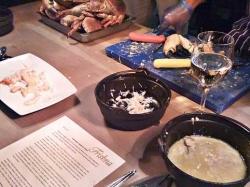 Crabs can look quite alien to us ugly humans. What with their shifty sideways glances and bollard eyes. Maybe that's why dismantling them remains such a daunting prospect to cooks. So, Trishna to the rescue, the Indian restaurant in London's Marylebone has decided to offer a series of crab-cracking master classes each Sunday followed by a three course crabby meal.
Off I scuttled to try my hand at splintering claws. Head chef Ravi Deulkar welcomed us with a bowl of eight live Dorset brown crabs, whipped from Selsey's water that morning. They were flexing their pincers in menacing fashion. However, we were safe, said Ravi, because their tendons had been removed. One poor thing was blowing bubbles in a frantic stab at survival. How heartless we omnivores can be. But I swallowed all sentiments when Ravi plopped them into the pot for a ten-minute boil
Trisha uses around 15 crabs daily – some poor soul has the task of extracting the flesh for two hours each morning. It's certainly a labour of love. Luckily -for whom I know not – today we amateurs were here to help. We donned blue rubber gloves, turned the cooked crabs upside down and started snapping off their hind legs. Using the back of the knife handle, we smashed the shells to release the meat though I let lots of shards through. Hammers, apparently, damage the meat and shouldn't be used. The sweetest flesh, which is white and flakey, is in the thighs Ravi told us. The more gamey, rich brown watery meat is found in the shell. We used things that looked like crochet hooks to prise out the crab from the legs and belly before sloshing it all into bowls.
Thankfully, that was all the prep required of us. I left the others diligently scraping and disappeared to find lunch. We had a selection of the crab dishes that Trisha serves. The lobster and crab salad with mooli, cucumber, green chilli and lime made a zingy fresh starter. White crab was used for this, effective because it was robust enough to tackle the astringent of the lime and heat of the chilli. I managed to grab the last crab tikki made from ginger, green chilli, pickled tomato and brown meat chutney which was delicious. The brown crab that came later was perfect with fried okra, a winning combination I'd never tried. So, no complaints after such an arduous start. But in retrospect, I think I'll leave the hard crab-cracking to the professionals and just eat the stuff.
Trishna, 15-17 Blandford Street, London/020 7 038 3660