As Dan Doherty's new and eagerly awaited Duck & Waffle cook book hits the shelves, Nik Speller ascends Heron Tower to have a word with Londons 24 hour chef
I've not interviewed a chef before and have only met a couple. It's a strange experience for a food'writer' – a term I use in the loosest possible sense. Here I am, one of those people who can't cook, won't cook, yet will sit in your restaurant as a paying guest and moan (or praise) the fruits of your hard labour, with no more qualifications than a fat tongue and a working jaw. I'm surprised he gave me the time and didn't just threaten me with some form of physical abuse, as one chef did last year – although, he quickly changed his menu in line with my review, so clearly I'm not totally clueless.
I doubt threats of violence would be Dan Doherty's style. He seems far too nice a guy and has a book to sell, so it wouldn't make much sense to punch me. Besides, he'd literally just stepped off the plane from India, having been part of a team who cycled over 400kms for charity, so is probably too tired. So how did he find his Indian adventure? He sips his coffee thoughtfully before replying. "India was immensely rewarding, revealing and humbling," he says. " We got to see the good work being done, but also the stark reasons why the charity exists". A class act all round then and even the offer of a coffee for the interview – it's win, win.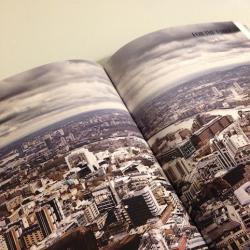 Dan is of course the executive chef of the Duck & Waffle, so how he has time to do anything other than work, I don't know. Sitting atop the Heron Tower, on the 40th floor, Duck & Waffle is the highest restaurant in the UK and I could say it has breath-taking views of the city, had my only visit not been this summer during the smog storm. It's also a 24 hour restaurant, which is strange for a place of such high cuisine – a style more suited to the curries and bagels of Brick Lane.
Before taking a look at Dan's book, we talk about the restaurant itself: its sales of 7,000 duck legs a month, its floor-a-second visitors lift, the guy who once ate four signature duck and waffle dishes in a row – the usual statistics for a restaurant. What are the challenges of running a restaurant like this, I wonder.  "Putting a team together who can work different shifts around the clock wasn't easy at first," Dan explains " We've had some practice though and now it's fairly seamless. I've picked the best guys to work at the right time of day. There's no point putting an early bird on a late shift."
It must be one hell of an administrative task and not easy to walk away from at'the end of the day' (whenever that may be), knowing that the kitchen will continue running while you're tucked up in bed. Dan thinks about it for a moment. "Trust is very important," is his eventual answer. " I have to know I can trust my staff to maintain standards when I'm not there. To begin with, it was hard to let go, but now I have people in place who I can trust, which lets me do other things, like this interview, the book and, of course, sleep," he laughs.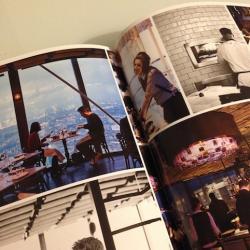 Is it all worth it though? I'm sure somebody somewhere would have seen a 24-hour Duck & Waffle as a pure gimmick, a marketing exercise to gain some column inches and fill some tables. Dan doesn't bite, instead it's an intelligent and interesting response: "The time of day changes the atmosphere of the restaurant. It's integral to the whole experience. Visiting at different times, it's almost a different restaurant." He turns to the book and shows me some of the photography. "See, in the morning the low sun brightens the restaurant and there's an upbeat, friendly, positive attitude from everyone." He flicks through a few more pages, finding a shot from later in the day. "In the evenings, when the darkness reflects the restaurant against the windows, it's more of relaxed, cocktail bar feel, and on occasions an almost party atmosphere."
It's perfect segway into the book, Duck & Waffle: Recipes and stories, as this is a book that takes inspiration not just from the cooking, but from the staggering views of the restaurant, both inside and out. The pages are filled with incredible shots of London in the day, night, dusk, morning and many more minutes in between. From the pale grey light of 15:40, to the orange glare of 19:05, these pictures alone make it worth a read. The recipes don't disappoint either. "It sounds cheesy, but it's the dream of a chef to write a cookbook. A way of documenting the recipes so others can enjoy them, and sharing share the inspiration and stories behind each dish. In a way, the book is an attempt to translate our menu into home cooking."
Dan suggests I try a dish with mussels, which is not going to happen, so opts for hara bhara lamb with smoky aubergine and mint yoghurt. It seems relatively straight forward, creating a paste from herbs and spices, marinating the meat overnight before baking the aubergines and frying the lamb quickly before serving. Like the guy who owned Hitler's car, I'm a busy man and haven't had time to try it out; but I will, and I'm sure only my failings in the kitchen will let it down.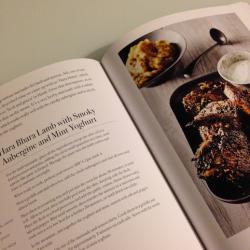 Before leaving, we discuss restaurants in London, Ludlow (his hometown) and further afield. "The kitchen table at Bubbledogs", he says, " was amazing. I really rated the Dean Street Townhouse Sunday roast also." That's not enough for me. It's nearly dinner time, so I want to talk more about the restaurants he enjoys. Dan thinks for a while then continues with his list. "Well there's Barrafina, of course, if you can get a table. And similarly Koya, if you don't mind queuing. Honey & Co too, I genuinely enjoyed too." As someone with an equal love for Koya, I'll take his word on all the rest and add them to that ever-growing restaurant hit-list.
Heron Tower, 110 Bishopsgate, EC2N 4AY
Duck & Waffle: Recipes and stories, is a 224 page book, available in Kindle and hardback editions from Amazon, priced at £12.99 and £17.00 respectively (price correct at time of writing). For more information on this title, visit the Octopus Publishing website.
Dan Doherty can be seen before the end of the year appearing on BBC's Saturday Kitchen and Channel 4's Sunday Brunch.