343 Fulham Road, SW10 9TW, London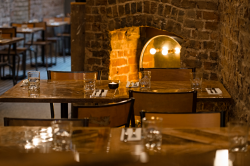 Since having to adopt a more mainstream approach to understand why the world is run by blithering idiots, I've learnt that if you want to treat a girl, go Nandos, right? Seems to be the consensus. Therefore, posh Nandos for a posh girl, correct? Job done. Clear as purple Calpol, which isn't clear, but just ask, let's say, everybody, which is their favourite Calpol and it's a landslide. You still with me? Anyway, what could go wrong?
Nothing as it happens. The place is quiet when we walked in but not eerily silent, plus it got busier as the night went on and we had a pretty big booth, so, it's spacious, but intimate, know what I mean? Cool looking place. Exposed brick and wood – always lucky if you land that, can't go wrong. The choice of tables and glasses caught my eye, pretty trendy. Nice place that doesn't feel like it's trying too hard. It's naturally picked by an owner that loved his Portugal Algarve childhood holidays – which every other review seems to have mentioned – but my family went to the Algarve every bloody year, so, I'm not sure, it just felt great. I miss Carvoeiro Clube.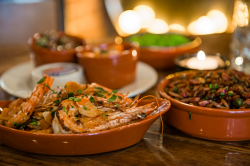 Everyone I spoke to banged on about the prawns and chorizo. They both tick the boxes. The prawns have the shells left on, so messy fingers, but, whatever, stop complaining and get on with it. Lot of garlic chucked in, I'm cool with that, plus these little prawn dudes didn't try to coq-bloq me, so I liked them. The chorizo is like that harmless mate that comes to the pub, but you've got no idea whose mate they are, which is fine. Come along. No harm done. Plus it's a new option to the rest of the crowd. And extra meat is always good.
Mini mojito shots are good too – Jesus hippy plucking mice they're good. Went off mojitos for a while. They got a bit samey – samey being a layman's term for repetitive. It's hard to go back to them unless you get a nice, light, fresh one. This little shot is a cracking idea. The lychee martini shot is sweet and cheeky, the full size cocktail offering is better. The cucumber based one I had was fresh. Cucumber. Loads of cucumber. Did I mention there was cucumber in it? Well there was, with extra cucumber on top. Still good, don't let it get warm.
I had to go chicken, obviously, which is a poussin rather than a chicken. Or is a poussin a chicken? It's type of chicken, one of those smaller ones, did the French invent them? It's noticeably tender, even with the crispy singed crust it's still tender. Spicy too, a nice spice. Punchy Portuguese kick which isn't as bogged down or heavy as other peri peri chicken restaurants. I'd prefer this marinade. Bottle it up, we're off to see the Dragons.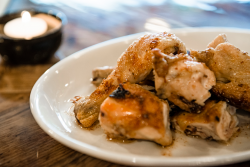 The sea bass rocks. Fresh, light, grilled. Funky combination of a light fresh chilli kick with fragrant wafty la-di-da bouncey tones and all that jazz. It's a nicely grilled piece of good quality fish. The fries are also good but the rocket and parmesan salad needs a bit of moisture. Even just a drizzle of olive oil. Good rocket though, al dente and peppery. Parmesan's nice too. Strong.
An egg custard tart was worth the money. It's not a fancy-shmancy version delivered by a white-glove-wearing minion under the command of the ever-watchful supervisor-overlord; but it's not a microwave Aunt Bessie job. It's just a cute little egg custard tart. Comforting. Could watch X Factor with it in pyjamas. The ice cream's nice as well.
I reckon, with a staff that's buzzing to be part of the company, serving cocktails like those, backed up by some good fresh cooking coming out of the kitchen, signed off thanks to a good eye for interiors, this little place is worth a shout if you're nearby. Had a really good evening, lot of fun and very comfortable. Go for the chicken, stay for the mini mojitos.