Tales of £86,000 drinks bills and Russian oligarchs, trips to far east and offices in Segonzac are exactly the sort of anecdotes you would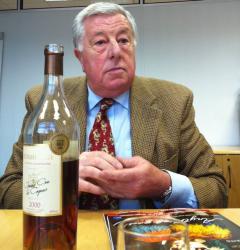 expect from a man who specialises in cognac.
'Never swirl a spirit' I'm told, as David pours a ten year old cognac into the glass and rolls it about gently. Apparently swirling the spirit releases the alcohol which blinds the delicate aromas of the drink.
I first met David Baker, founder of Brandyclassics when I was in the market for a 60yr old cognac for a birthday present. David came through with a knowledge and quality of service that is rarely found these days. 
When parting with more than a fifty for a fine spirit, it's hard knowing what to look for and a novice can feel vulnerable and prone to making the wrong decision. For example, I didn't know that a spirit stops ageing once it hits the bottle and I also didn't know that it's extremely difficult to get a vintage cognac.
Like Champagne's older and wiser uncle, the best cognac is made in Grande Champagne and Petite Champagne and like the fickle fizz that everyone loves, it is difficult to get a consistent yield and quality each year and so most producers blend the results from various years. While that doesn't bother most people, those in the market for a genuine drop that has been aged from a certain vintage, it's important to understand the rarity of vintage cognac.
David was able to find me a 60yr old cognac, which meant the spirit in my bottle had been aged in a barrel for 60 years.  It wasn't a vintage cognac but it did uncommonly have the age on the bottle, which was exactly what I was after.
During our chat, David kindly let me taste around eight or nine different brandies ranging from a five year old armagnac  upstart to a dark and velvety 1914 cognac, which incidentally just won the Cognac Masters medal . I say 'around' because even though David recommended that I spit as with a wine tasting, I couldn't bring myself to do it, and so my memory is understandably, a little fuzzy.
David can tell you all about cognac, armagnac and calvados among other things, he can help you decide what spirit will suit your needs and provide an intimate history of each drop. I didn't know that calvados was actually strongly reliant on the pear to achieve its distinctive flavour and aroma. Apples are simply not acidic enough to distil on their own, so they need a little help from their more shapely brother.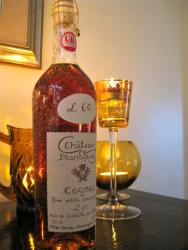 I also learnt that armagnac has a characteristic taste and aroma of prunes and doesn't age as gracefully as cognac. Armagnacs are distilled at a lower alcohol range than cognacs so they are more fruity but not usually as refined. I could go on, but the internet is a handy tool for trivialities, and so instead I'll focus on David, because you can't glean as much about him online as you can in person and he really is the reason for the success of Brandy Classics and the Hermitage range.
With clients all over the world, an HQ in Wiltshire and another in the centre of the Cognac region, David's knowledge and character is robust and mellifluous just like the prized 1914 Hermitage. After all, it's not every one that gets a cru named in their honour.
There was a firm in Grande Champagne, who David was visiting on one of his trips to France and they had a dilemma. They had a cognac made in 1975 which they thought could be improved and so they asked David for his thoughts on the situation. David of course had an opinion on the subject, because while he doesn't make his own spirits, he has consulted for many years with producers.
Five years later as David made his rounds once again to the brandy houses, families and firms he came across the 1975 again. With a twinkle in their eye the excited producers ushered David down into the cellars to show him something special. Deep in the musty coffers they unveiled barrels labelled cru David Baker, Hermitage 1975 Grande Champagne -obviously named after the man himself. Whatever it was that David advised had worked and so it was that this firm gave David more than a penny for his thoughts.
Specialising in very old brandies, David is struggling to keep up with the demand these days. Time is the essential ingredient in any brandy and sadly there is less and less available for Brits due to the increasing demands of the Chinese markets. Drinking cognac with dinner like wine, the eastern thirst for France's famous tipple is drying up the well for the rest of us.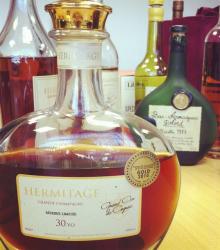 But never fear, David can proudly say that his brand of single estate Hermitage Cognac, is blended using the finest eaux de vie, distillers and ageing procedures needed to create cognac with genuine character.
Unlike the big houses who blend thousands of young brandies together and use additives to conceal their young ages and aggressive character, Hermitage Cognacs are single estate and develop their richly coloured tones from the barrel, not a bottle of food colouring.
As David packed up his kit we discussed the real and imagined merits of vintage brandies. I ask David what his favourite cognac was and his eyes went all misty as he told us about a fine forty three year old, with a depth and complexity like no other. So I guess it goes to show the old adage about the beauty and the eye of the beholder is also true for appreciating cognac.
It's not necessarily age that defines quality but rather the drinker's appreciation of the bouquet and finesse of flavour – which is exactly the kind of wisdom you would expect from an expert.