This week I was invited to a Discover the Origin masterclass with chef Matt Tebbutt of The Foxhunter in Nantyderry, Monmouthshire. The evening took place at L'Atelier des Chefs, a surprisingly large cookery school in the centre of London, where we learnt all about some lovely cheese, wine and port from Italy, France and Portugal.
Discover the Origin is a three year campaign, currently in its second year, which promotes five products that have Protected Designation of Origin (PDO) status: Burgundy wines, Port, Douro wines, Parma ham and Parmigiano-Reggiano. Having PDO status means that the products must be produced in a certain region and in a certain way, which in turn ensures their consistent quality.
At the masterclass, we sampled the ingredients individually before going into the kitchen and cooking a three course meal using the Parma ham and the Parmigiano-Reggiano. All under the watchful eye of Matt Tebbutt, of course. Then we had the opportunity to match what we cooked with Douro wines, Burgundy wines and Port.
Here are the recipes from the night:
Parma Ham-wrapped scallops with Marsala and sage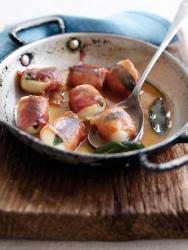 Serve with a white Burgundy such as Meursault or Viré-Clessé
Serves 4
Ingredients:
400g long-grain rice
finely grated zest of 2 lemons
2 teaspoons vegetable stock powder, plus an extra pinch
24 small fresh sage leaves
24 scallops
12 slices Parma Ham, cut in half
50g butter
6 tablespoons Marsala
4 tablespoons fresh herbs (chives, parsley, thyme, etc.), chopped
salt and freshly ground black pepper
Method:
Put the rice on to cook in plenty of boiling water, adding the lemon zest and one teaspoon of stock powder to flavour it. Cook until tender – about 12 minutes.
Meanwhile, place a sage leaf on top of each scallop and wrap half a slice of Parma Ham around each one. Heat the butter in a frying pan and add the Parma Ham-wrapped scallops, cooking them for about two minutes before turning them over to cook the other side.
Add the Marsala, four tablespoons of hot water and the pinch of stock powder. Simmer for two or three minutes to reduce the liquid a little. Season to taste.
Drain the cooked rice and stir through the chopped herbs. Serve with the scallops, along with the cooking juices.
Chicken Supremes stuffed with Parmigiano-Reggiano cheese and Parma Ham
Served with a Douro Valley red wine
Serves 4
Ingredients:
For the chicken
4 chicken breasts, skin and wing bone attached
4 slices of Parma Ham
A handful of Parmigiano-Reggiano cheese – grated
1 packet green beans
400g couscous
Salt and fresh black pepper
For the tomato sauce
16 cherry tomatoes, chopped
100g black olives, drained and chopped
1 large garlic clove, finely chopped
1 onion, finely chopped
a glug of red wine and balsamic vinegar
Basil
Olive Oil
Salt and fresh black pepper
Method:
For the Chicken:
Trim the wing bone and tidy up the skin on the chicken
Carefully open up a cavity in the chicken. Put the Parma Ham, half of the Parmigiano-Reggiano cheese and freshly-ground black pepper into the cavity
Seal the chicken in a hot pan with some olive oil to crisp up the skin
Place in a roasting tin, skin-side up and sprinkle over the rest of the Parmigiano-Reggiano cheese Roast in the oven for 10-20 minutes at 160C/325F/Gas 3
Meanwhile, cut the green beans in half and cook in boiling water for 6 minutes. Drain and add to the cooked couscous for serving. Season
For the Tomato sauce:
For the sauce, heat up 3 tbsp of olive oil in a deep frying pan
Fry the onions and garlic until golden
Add the tomatoes, a glug of red wine and balsamic vinegar and the caster sugar. Cook gently on a low heat for 20 minutes
Add the olives, basil and seasoning before serving
Apple and almond tart
Serve with a 10 year old Tawny Port
Serves 6
Ingredients:
1 x 12" tart ring lined with un-cooked sweet pastry
For the frangipane:
250g butter
250g sugar
250g ground almonds
4 x whole eggs
For the purée:
1 x vanilla pod
2 x Bramley apples, peeled, cored and diced
Sugar
Big handful of raisins
6 x Cox's apples, peeled, cored and halved lengthways
Method:
To make the frangipane – beat or cream the butter and sugar until the sugar has dissolved and the butter is pale. Turn the mixer's speed down and add the ground almonds. Beat until just incorporated then add the eggs one at a time so the mix doesn't split. Chill until ready to use.
To make the purée – Cook the vanilla pod with the Bramley apples and a little water over a low heat until puréed. Add a little sugar to taste.
To assemble the tart – Spoon the apple purée over the base of the uncooked tart shell, scatter over a handful of raisins. Fill the tart
To find out more about the campaign and the products, visit www.discovertheorigin.co.uk