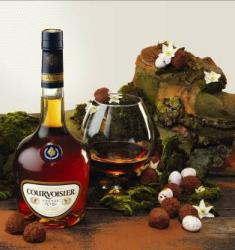 Easter is almost upon us and to ensure your celebrations are full of cheer, Courvoisier has created some tempting truffles with award-winning, bespoke chocolatier, Paul Wayne Gregory. Whether you're relaxing with friends, family or loved ones, forget Easter egg hunts and chocolate chicks and take the sophisticated approach with gourmet homemade Easter truffles infused with the fragrant flavours of Courvoisier VS.
Courvoisier has teamed up with Courvoisier The Future 500 member, Paul Wayne Gregory, to treat us to something extra special this Easter.
Not only are these beautiful egg-like truffles easy to create at home, they are perfect for indulging in after a lazy Sunday lunch and make an undoubtedly delicious gift. Show off your culinary skills and surprise guests with this easy to follow recipe:
Courvoisier truffles (makes 35-40)
Method
Split the vanilla pod and remove the seeds
Place the sugar, vanilla pod and seeds with the cream into a pan and boil on a medium heat
Once boiled, remove from the heat and leave to stand until warm
Remove the vanilla pod and scrape the seeds back into the pan
Add the butter and whisk until melted
Pour the mixture over the chocolate and allow to stand for 3 minutes, until melted
Add half the Courvoisier VS to the mixture and whisk together
Once set use an electric hand mixer and add the remanding Courvoisier VS, the mixture will now be smooth and silky
Pour the mixture into a flat tray, cover and set in the fridge for a minimum of 4 hours. For best results, chill the mixture overnight.
Shape into small balls and chill for 30 minutes in the fridge
Dust with icing sugar and arrange on a serving plate
These melt-in-the-mouth bites make an innovative alternative to the classic chocolate egg and add a touch of luxury and opulence to your Easter extravagance.
If you don't fancy getting all gooey in the kitchen then Paul Wayne Gregory's original Courvoisier truffles can be purchased online at www.paulwaynegregory.com , RRP £4.45.
So celebrate the arrival of spring with Courvoisier and its unique offering of delicate chocolate truffles that will be sure to tantalise your taste buds.
Courvoisier VS is priced at £22.53 and is available from all major grocery retailers.