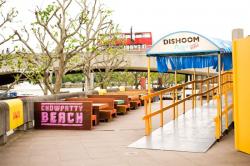 It doesn't seem so long ago that the Thames was unloved and underused, but in recent times it's been cleaned up, revitalised and is now a hive of activity – no part more so that Southbank. For many years dominated by the brutal aesthetics of the eponymous Centre, it has a broad range of things to see and do, and draws both locals and tourists in huge numbers. Into this vibrant environment, the nice people behind Dishoom in Covent Garden have created the Dishoom Chowpatty Beach Bar. In place until the end of September, it's a riot of colour in what is still a relatively grey part of the city, and when you add in a beach formed from 48 tonnes of sand, you've got something the like of which London has perhaps never seen before.
We wandered up to Dishoom Chowpatty Beach Bar from Southbank and entered another world. The bar has been constructed in the spirit of 'jugaad' (a Hindi expression which can be interpreted as 'making do'), using recycled (or 'upcycled' if you will) and refurnished materials, often in a very different way. So there are jam jars for light fittings, barrels and railway sleepers for seating and a bar made from recycled plastic bottles. You might even spot 'I used to be a…' inscribed on some of the furniture and fittings. It looked terrific, and I was immediately charmed.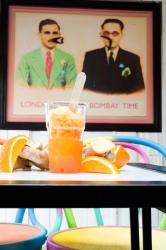 No sooner had we arrived than we were handed a Bombay Pimms, which was a delicious way to start the evening, and although it was moreish, we wanted to try some of the other 'tipples'. Next up, a 'naughty' coconut – good, but thanks to Mother Nature's aversion to straight edges, impossible to put down, which may or may not be a good thing. We also tried the juhu punch (rum, pineapple, guava and ginger), which was a cracking combination, and last, and by no means least, the gola ices; shaved ice, pressed into a cup until packed, then doused with flavourings to create a sort of lolly. Dishoom Chowbatty Beach Bar has a team of golla-wallahs creating four differed golas; in the interests of thoroughness, we tried all four. All of the golas are served either 'virgin' or 'naughty'… I'm not sure that they're exact opposites, but you get the idea, with or without alcohol – and of course, we went for the naughty option every time. First up, the kala khatta, made with Tanqueray gin and purple-black syrup from the jamun fruit, and best described as an acquired taste; I found it a little astringent, but would definitely try it again. We then tried the bubble gum, which tasted like, well, bubble gum. It was a little sweet for my tastes (I'm not difficult to please, honestly). Next, the strawberries and cream, which came with rum and was rather good, and finally, we tried the orange and ginger. This was definitely my favourite; made naughty with Jack Daniels, the bourbon, orange and ginger came together perfectly, it was mellow, zingy and spicy all at the same time. I loved it – several times.
Dishoom Chowpatty Beach Bar is also serving a range of classic Bombay food, and we tried three; the vada pau (spiced potato and chutney in a bun) was nicely spiced, though I didn't think the bun added anything; the Dishoom calamari was nicely tender, with lively lime and a bracing hit of chilli; the bhel (puffed rice, pomegranate and chutney) was interesting, if not exactly thrilling. Although I wasn't wowed by the food, there look to be some very interesting dishes, particularly the bacon naan roll and the Dishoom Frankie, and the dishes aren't expensive, so some thorough exploration of the menu needn't break the bank.
The staff at Dishoom Chowpatty Beach Bar gave great service throughout the evening; everyone was constantly on the go, friendly and helpful, and very much part of the experience and atmosphere. And what an experience; I loved it, and am definitely heading back. The Thames has never looked better, and with its perfect riverside setting and unique offering, you should put a visit to Dishoom Chowpatty Beach Bar very high on your summer 'to-do' list.
You can read more about Dishoom including our review by following the embedded links.