One of the more conspicuous players in the renaissance of the Languedoc region, wine maker Jean-Claude Mas, has an keen eye for retro styling as evidenced by the decor at his new restaurant, Côté Mas, near Beziers.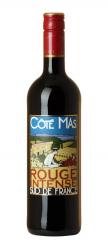 Here, in the clean-lined 'déco' interior that overlooks the vineyards, he serves three house wines from his own winery, Domaines Paul Mas. 
They are mostly blended with traditional Languedoc grape varieties and are eye-catchingly labelled in boldly coloured travel poster designs of a bygone age.
These eponymously named Côté Mas wines are available in the U.K. and are as tailored to please as the restaurant itself. They're priced at £7.99 each but are available on a 'buy two save £3' promotion until 28th October.
Côté Mas, Rouge Intense 2012 (Majestic) is dark and smooth, blended from Carignan, Grenache Noir, Cinsault with a little Merot and Syrah.
 It's rather subdued on the nose but 'intense' is certaintly the word on the palate with a dense mouthful of of brambles, chocolate and alcohol.
Described as a 'pioneer from the New Languedoc, Jean-Claude Mas has considerable business experience abroad and he has definitely set out to please the modern international drinker; and this red will be popular.!
Côté Mas, Blanc Méditerranée 2012 (Majestic) is the most fragrant of the wines which has been blended with a 'New World' boldness of style.
Many, I'm sure, will find it's rich mouthful of yellow fruit and floral notes attractive, but for me it is too fierce and too perfumed in rose petal, especially for the dinner table where I prefer a white wine that will compliment and not overrun the food.
My favourite of the trio is the Côté Mas Rosé Aurore 2012 (Olivers Wine Warehose), a nicely balanced rosé with a rounded, fruity bouquet and a succulent centre of peach and watermelon. Happily, it's not too smooth; it's got edges, some acidity and toasted spice giving it characteristics worthy of its native Southern French cuisine.
So, if you can't make it to Beziers, it's worth taking advantage of the current offer and seeing if Jean-Claude's style is your style.