If you've read anything about food in the last 12 months you'll be aware that steak and burgers are very trendy, even trendier than cupcakes or moral outrage.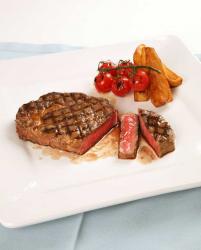 New establishments serving beef are compelled to make loud noises about charcoal grills, dry-aging and the exact composition of the cud Daisy was chewing before she was hauled off, naively mooing with joie de vivre, to the abattoir for highly-mechanised slaughter. Fail to mention these steak fundamentals in a press release for the opening of a restaurant and risk vilification in the blogosphere, or worse, total disinterest.
But what do carnivores do when they tire of restaurant mark-ups and other people taking photos of their sirloins? What does Joe Bloggs do when he wants a juicy, restaurant-quality steak but at home, where he can comfortably listen to dubious pop music, watch vacuous dross on the box or eat in his jim-jams?
The answer, in short, is to give Donald Russell a call. A Royal Warrant holder for nearly 25 years, Donald Russell is a Scottish butcher that originally sold only to the trade but now offers a range of meats to the public. The company's reputation is built on the quality of beef they supply to the restaurant industry, so it's good news that the same grass-fed British cow is now available for delivery to our own doors too.
The Sofitel hotel near Piccadilly Circus is one of Donald Russell's UK clients (the company does a lot of export business) and it was there that Liz and Petra from the firm hosted a small dinner for a few fortunate guests.
If you go to a swish hotel and get over-exuberant with the lavish hand products on offer in the toilets, products that subsequently turn out to be robustly fragranced, there is a chance you will taint the taste of your starter every time you bring it towards your silly mouth with your stinking hand. And I certainly didn't do that.
But whatever may or may not have occured in the gents, the charcuterie was, it turned out, a mere distraction from the main course, which was trotted out to be carved at our table. Rib of beef is always a spectacular looking piece of meat, all massive with a bone jutting out, and the trio on the chef's board were no exception.
Thick pink wedges of beef looked just as spectacular when our plates came to the table and the quality and taste of the meat really was wonderful; it was tender, juicy and seemed to dissolve away in the mouth with barely a chew. The cut is inherently tastier than fillet but the way it so easily divided with the lightest stroke of a knife was reminiscent of fillet steaks I've eaten in the past.
So, if you can't actually 'taste the difference' when you go to the supermarket for steak, try Donald Russell. Their history is a reminder that butchers have had to survive hard times thanks to BSE and foot-and-mouth, and the passion that helped them to stay afloat is perhaps an ingredient of their success today.
A number of different meats and cuts are available from Donald Russell, not just beef, and judging by the steak, the rest is worth investigating. And after all – if it's good enough for the Queen, it's good enough for you.