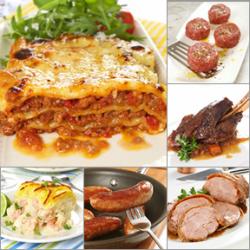 Where's the beef? It's on your doorstep along with some lamb, some chicken, sausages, beefburgers, lasagnes and even desserts. A food parcel from Donald Russell is something to really savour, even as you fall over it rushing out the door as I did..
They call them the monthly meal planners and with eight to choose from there's something for every taste and every pocket. Our selection turned up a day after ordering online and came in a big foam box well stocked with dry ice to keep it all cool. The box will withstand an average day's heat for quite a while if you aren't around to receive it, but obviously it's best to arrange to be in or for a neighbour to take care of it.
It feels rather like Xmas opening the box. The lasagnes look good, the chicken breasts are plump, the sausages promise porkiness, the lamb fillets a bit of a treat and the burgers can wait for some sunshine. We also got two blackcurrant cheesecakes in the mix. It's a good feeling to look at a fridge well-stocked with meat and know it's guaranteed quality and that you didn't even have to get the car out to go and get it.
How you spread out the meals over the month is up to you, everything in the box can be frozen on day of delivery, but we had to hastily throw out bags of peas and bags of unknown items and unknown date to make room in our freezer.
So we left the lasagnes on the side and had them for tea that night. Very meaty, very nice. I like a home made lasagne but it's a bit of a bind to make and takes a lot of time so these hit the spot.
When we got around to the chicken breasts we were surprised to find that, on defrosting, the sealed packs had a lot of water in them. Not sure what that was all about, but drained and washed and then wrapped in some pancetta and roasted, they tasted fine. A good size too compared to the supermarket breasts. These chickens apparently are reared in total freedom in the Loué region of France on a natural diet. We ate the cheesecakes that night too, which were fine but a bit unremarkable. Not perhaps surprisingly, as Donald Russell is more a butcher/fishmonger than a patissiere
When we got around to the the sausages we were well impressed. Taut glossy skins and no nasty liquids leaking out on frying and a very high pork content. In fact so porky we skinned them the next night and cooked the meat with oregano and dried chili before mixing it into penne pasta and serving with a green salad. Nice.
The lamb fillets presented a bit more of a challenge but we reckoned the best thing to do with such tender meat was to stir fry it so as to keep the centres pink. With some fresh ginger, garlic and soy sauce, plus some Pak Choi braised and then swiftly doused in oyster sauce, they turned out pretty perfect.
And so to to the beef, or beefburgers to be precise. These were the only real disappointment, not because the meat was no good, it was very good, the problem was the thickness or lack of it. It proved impossible to get the outside seared without the centre being cooked too. Most adults like their burgers rare, while most Americans and children don't. We couldn't find any any Americans but kids were easy. They liked the thin burgers as it allowed them to cram more into the bun such as cheese and about half a bottle of tomato ketchup and a gherkin. Our suggestion of lettuce too was met with the derision it probably deserved.
Most of us don't have a decent butcher around anymore, and if we do it's expensive. And the packs of meat in the supermarket often less than inspiring. Donald Russell have an enormous range of meat and meal options on their website and the meal planners make a lot of sense.
Sample pack
The Fish Pie, individually packed, (pack weight 450g e)
2 Classic Bolognese, individually packed (min. pack weight 240g)
2 Lasagne, individually packed (min. pack weight 440g)
1 Pork Shoulder with Crackling, individually packed (min. pack weight 500g)
2 Lamb Shanks, in packs of 2 (min. pack weight 600g)
8 Beef Mini Rump Steaks, in packs of 4 (min. pack weight 200g)
16 Pork Sausages, in packs of 4 (min. pack weight 280g)
12 Mini Steak Burgers, in packs of 4 (pack weight 180g e)
Servings: 29-33
Free delivery when you order £80 or more