Joe Delucci's is clearly the kind of ice cream vendor that prides itself on its original flavours. Despite this, I decide to myself, as the stall manager suspiciously eyes my 'two free scoops' voucher, that it is impossible to judge any ice cream parlour without trying their take on some old classics. As such, when the manager's misgivings finally give way to indifference I choose one scoop of mint, another of cherry and talk my friend into buying a Joe Delucci original – the 'Crème Caramel'.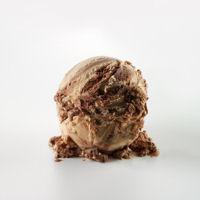 I am somewhat disappointed by Joe Delucci's rendition of mint choc chip, my favourite ice cream flavour, which has a powdery, synthetic quality to it which takes some getting used to. Though this chemical edge fades after a few spoonfuls, giving way to perfectly pleasant peppermint flavour, I cannot help being put off.
My scoop of cherry is a vast improvement, the rich swirls of cherry nicely offset by the plain ice cream. Again though, the sweetness is slightly (though only slightly this time) saccharine – probably not something I would have even noticed had I not just had my taste buds riled by the mint choc chip.
By far the highlight of the three flavours is the Crème Caramel, which tastes almost exactly like the real thing and is absolutely delicious.
It is clear that Joe Delucci's have really concentrated on their original flavours, which really are superb. For £2 a scoop, these are ideal to mull over as you wander through a shopping centre – and even more perfect to spill everywhere in H&M.
I you play to its strengths then, Joe Delucci's makes for delicious – and very reasonably priced – fuel for a day's shopping.