Noma, Strandgade 93, 1401 Copenhagen, Denmark.
I'm a glutton for punishment. Actually, scratch that, I'm just a glutton. It's no surprise then that when I was offered a reservation for Copenhagen's Noma, I not only jumped at the chance, I booked myself a same-day return flight, scheduled to depart only a few days after my return from New York. Like I said: glutton.
Renee Redzepi's restaurant, located in an old warehouse, attained its fame by 'reinventing Nordic cuisine' using fresh and local ingredients, using foraging techniques and innovative food preparation – one of the more famous and gruesome dishes of the restaurant is an ice bucket of live shrimp which jump around when removed from the ice. This creativity and playfulness has earned Noma the title of world's best restaurant for the second year in a row.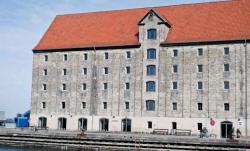 The decor was simple: wood, stone and soft cotton drapes; fur chair covers and bare tables, except for a flower pot and candle; it was very natural, very organic. The servers moved around the few tables whilst the chefs brought dishes out. One of the servers stopped by to comment on my camera: "oh I have a Nikon! What lens do you use?" Another told me that she'd read my blog that morning. This was a very different experience.
Creme fraiche came out of the kitchen and the flower pot was pushed towards me. "Your first snack is hidden in here – enjoy." Suspended upon a twig, a malt and juniper flatbread, dusted with moss. Excitement shook my hand as I dipped it into the creme fraiche – crunchy and delicious. Next up, a terracotta platter forest with edible deep-fried moss dusted with cep powder; it crumbled in my mouth and faded like a whisper. I still had no cutlery at this point. The following eight dishes, all eaten with fingers, were playful but, most of all, delicious. Whether it was the duck broth crisp that fell apart at the touch of my lips, or the butter ball with a smoked anchovy skewered through, each element was strange and wonderful.
One of my servers came over to chat to me – dining by yourself is often a lonely practice but in this case it had its advantages: "normally for lunch we only offer 7-courses, but for you we can offer the 12-course – it depends on how fast you can eat and how fast the kitchen works before we close, but we can try?" Guess what I chose.
The first nine courses were savoury delights, the only meat a sweet and tender pan-fried reindeer tongue. They were all both beautiful to look at and eat. By about course four I was filling up – at the close of my meal I'd have eaten 20-odd courses in total. When I confessed this to one of my servers he smiled, "you can do it," then brought me my next course. The last three courses were desserts, my favourite being the famous Snowman dish consisting of elderberry meringue, sorbet and mousse, stacked atop one another, surrounded by yoghurt snow and with a lingonberry puree hidden beneath. A candied carrot sprig nose protruded from its face and elderflower sprigs served as arms; it was the cutest thing I'd ever eaten, if somewhat macabre, as to access the puree one was forced to cut the tiny little man in half.
My only real criticism of the food was that many of the sauces and reductions used a rich goat's butter base which, though delicious, had a tendency to overpower the rest of the food. Sadly, this meant that many of these dishes tasted the same, but that is only a small criticism in what was otherwise an incredible meal.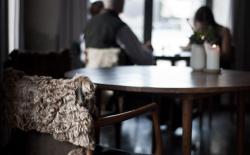 Following my lunch I was offered a tour of the kitchen by sous-chef Sam Miller, a native Yorkshireman and ex-Alinea employee. The back of Noma was more like a scientist's lab than a kitchen: downstairs, chefs were employing liquid nitrogen rings to put together a dessert course; upstairs, chefs were scraping chicken skins; behind them another was jointing a pig – it was a well-oiled machine under Miller's command. Would he think about opening his own restaurant? "Rene is so incredible, my worry would be that I'm not good enough, or my dishes won't be as creative and original as his," he mused. A fair worry but Miller wasn't Redzepi's right-hand man for nothing – I had no qualms.
It was time for me to leave Noma and fly back to London, but not before I asked Miller one last question – "I was just wondering, how did you trap the smoke in the container for the smoked quail's egg dish?" He smiled and reached up to a shelf, pulling out a small device. "There's this hippie town just around the corner from here so we bought this," he showed it to me – it was essentially a small electric bong. "We light the hay here, insert it into the container and turn it on. We've actually got a proper smoke machine now, but we prefer this – it works so much better!"
On my plane home I reminisced about my meal. Whether it's street food from a humble stall or food from the best restaurant in the world, what we all really search for is simple and great food, and that was exactly what was at Noma's heart; that would be enough to get me to return again and again.