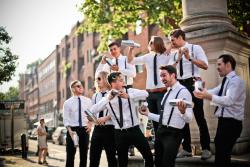 Back for the fifth year, London Cocktail Week – the biggest drinks festival in the UK – is just around the corner. From Monday 6 to Sunday 12 October 2014 get ready to shake, sip and party your way to a celebration of our capital's unrivalled cocktail culture.
The London Cocktail Week includes a wide variety of pop ups, demonstrations, tastings, mixology masterclasses – celebrating spirits, wines and whiskies. Each year the number of followers grows, and now on its 5th year, the London Cocktail Week expects over 20,000 guests to visit over the week. 
To be part of London Cocktail Week 2014, festival-goers must buy a wristband, which cost just £10 if booked in advance or £15 once the week begins.
Wristbands give access to the huge amount of free sampling and cocktail demonstrations, as well as the renowned self-guided Cocktail Tours; with 250 of the best bars across the capital throwing open their doors to offer bespoke and unlimited cocktails for just £4 all week. Each bar will be mapped out in your free London Bar Guide, so there will be no problem navigating around. You can buy tickets from the London Cocktail Week Ketel One Hub in Seven Dials