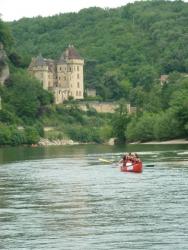 If you cannae do canard or tussle with truffles, the Dordogne Valley ain't for you. But a chomping chunk of us wouldn't mind a lifestyle where rich, luxury foods such as fois gras galore, duck rillettes, walnuts, saffron, truffles and goats cheese featured daily in our diets, especially if it doesn't whack the wallet as hard as it would in the UK.
Although I was soon missing my (dull) quinoa salads – and despite truffle season not starting until December – I got a sense of the culinary way of life in South West France. 
Dordogne – so named after the fast-flowing river which leaves these valleys so fertile – is awash with fairytale medieval castles propped on densely-forested cliff edges and pretty villages where the above-mentioned foods seem to burst from cocottes – or pans.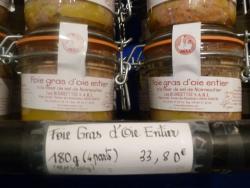 A lot of it serves the thousands of British ex-pats and tourists that flock to the region but the locals are proud of their rustic culinary traditions too.
My first food stop was Martel, a sleepy, honey-stoned town with turreted towers, streets that wind through archways and sprays of jasmine across random corners.
It was here I discovered that good fois gras appears beige at the base when packed into jars, whereas badly fed birds (and you could argue that none are fed brilliantly) produce fois gras that's reddish pink, don't ask why.
Agnès Hacout, who manufactures this to careful standards, sells all kinds of terrines and cassoulets in Martel from her rustic deli and restaurant "au Hasard Balthazar"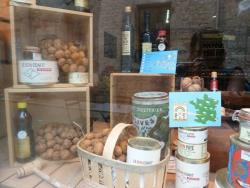 It was here I tried Agnès' delicious duck rillettes, although this food is ubiquitous in Dordogne. Duck, which along with goose is a regional speciality, is first salted and cooked in its own fat as a confit before being shredded into a pate. It's often served on bread – families have this out of tins with salads as a dish of convenience after work.
High-end but affordable food seems easy to find. We had an excellent three-courser for €28 at a sixteenth century restaurant with rooms converted from an old girls' boarding school. Relais Sainte-Anne in Martel has extensive manicured grounds and even its own chapel but the food served by young chef-owner Guillaume Rimet-Mignon was surprisingly contemporary for such a traditional setting.
Good here was my starter of'L'oeuf poche facon Meurette et sa sauce aux Cepes', translated into the less posh-sounding'poached eggs in a red wine sauce with mushrooms'. The egg came served on a tower of spinach and ceps hidden behind a tall cloak of biscuit and topped with a red wine froth – looked a bit like a murdered viscount – or perhaps not, um, very nice anyway.
This being the country of cherries, les cerises were served with steak and broad beans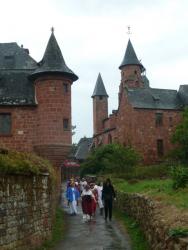 forming a pretty colour trilogy on the plate as well as an interesting variant.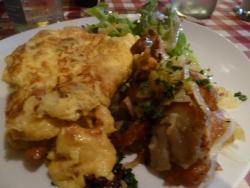 My absolutely favourite meal, however, was in the red village of Collonges-la-Rouge – rouge because all the sandstone in the houses has been oxidised red from high concentrations of iron.
Le Cantou is a third generation family bistro, bustling, traditional with red gingham tablecloths and copper pans dangling from ceiling joists. Lunch was a rustic, simple affair.
The waiter carved the huge and fluffy omelette aux girolles like a Sunday roast before plopping it next to the most delicious potato gooeyness called pommes de terre collongeoises (recipe here, though in French: www.lecantou.fr/recettes.html).
The potatoes were simply cooked in duck fat, caramelised onion and parsley but were sticky heaven. They also did a wonderful black cherry clafoutis dessert, traditional in this part of the region in retaining the stones for extra flavour when baked. With a good glass of local Pécharmant, red, complex and cinammony, from Bergerac, all this came to about £20 – well worth it.
Walnuts in all the right places – and alcohol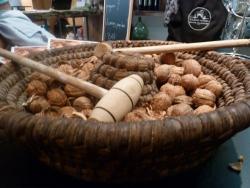 Walnut trees can be found just everywhere in the Dordogne Valley where they are made into oil, liqueur, desserts and wines. In drinks, the nuts are macerated and mixed with alcohol – a walnut wine I tasted looked like cola and tasted of port rather than walnuts though.
I tried a better liqueur at Denoix Distillery in Brive-La-Gaillarde which since 1839 has been making nut liqueurs in its small distillery. They do guided tours and now use all kinds of herbs and spices in their drinks, such as coriander, aniseed, juniper and of course walnuts.
The drinks are quite sweet, as tend to be a lot of alcoholic drinks in Dordogne, from Monbazillac (interesting in a jelly with melon) to the Vin Paille. The latter means "straw wine", so-called because clusters of grapes are dried on straw until the end of January when they sweeten to a concentrated raisiny consistency for a syrupy wine, often used for celebrations.
We tried some from small producer Jean Louis Roche near Beaulieu who's part of a syndicate. The process is laborious so the producers are often small scale and his is a modest affair. His 2010 white had Christmas fruit flavours and would work with, he says, fois gras – of course – or local cheeses such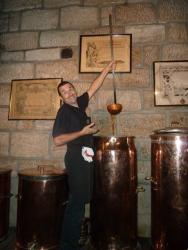 as Rocamadour or Salers.
Truffles (theoretical) and saffron (scarce)
OK, so I didn't get to taste truffles, much to my chagrin as it was July and the region's black truffles are available only in winter. Plus I couldn't afford to buy them anywhere. I had some saffron in oil though, which was some consolation, at the farm of Laurent Dureau .
This 38-year-old former diving instructor most unusually combines his eco-farm of organic truffles and saffron – snuffled by his dog Gyokyo – with a trekking service for kids provided by six donkeys. His hand pressed walnut oil is to die for – toasted and malty and currently exciting my quinoa salads.
He's enthusiastic and shows us the nearby pretty village of Loubressac – categorised as one of Frances "Most beautiful villages"   – as were all the villages I visited, most of which were pretty wealthy too. Dordogne boasts (and the people are proud) around 12 out of 157 of the "most beautiful villages in France.
Loubressac, on a hilltop, again is chocolate box perfect with puffballs of pink hydrangea and spiky oleander fronting sandstone, half-timbered and turreted mini-mansions. Apparently, he says – though hard to believe – they have all night music festivals here in summer.
Food markets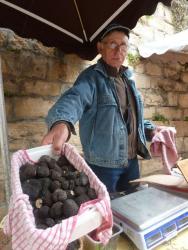 All the little towns seem to throw up markets with heads of garlic and potent cheeses being popular sights. There's a huge food and bits market at Sarlat every Saturday and half-day Wednesday, however, which trumps them and takes up the whole of this medieval town's streets.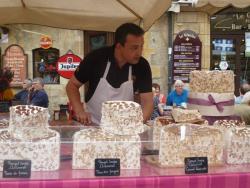 Sarlat's an atmospheric little place with, as with most buildings in Dordogne, steeply-pitched roofs and ivy-covered, golden walls.
On a Saturday, once you've shouldered through the rails of lacy cloaks, scarfs and straw baskets, and earwigged the conversations of the copious ex-pats ("my feet are killing me, Beryl"), there's a brilliant range of, wait for it: fois gras in pink cans; sheep and goats cheeses; oozy sausages; and countless breads and pastries.
But this market ain't Ridley Road or Brixton, I tell you. Occasionally, in this very white part of France, you'll see a North African, usually selling a tempting tagine from a stall but it's mainly traditional goods here and the odd truffle seller looking pained at yet another camera-touting tourist.
That tourist was me and although a photograph is all I have of Dordogne truffles, I got to taste a lot of delicious though cholesterol-steeped foods – crispy duck skins in cassoulets, rillettes, crème brulees, duck fat spread like butter…
It's a relaxed way of life here, perhaps a bit slow for me, but if you were as full of fois gras and cream as they seem in the South West of France, wouldn't you be?
For more details on Dordogne:
www.tourismecorreze.comwww.tourisme-lot.com www.vallee-dordogne-rocamadour.com www.terrasson.com www.sarlat-tourisme.com
www.visit-dordogne-valley.co.uk