The packaging suggests a child's toy is inside. The EasiYo is however a grown up device that makes creating yoghurt at home child's play.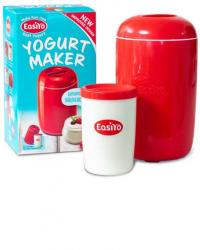 The packaging is odd; bright colours and playtime fonts suggesting something a small child might crave. but the cheerfully bright red device inside is better looking. Its simplicity shines out.
This is the first EasiYo redesign in the brand's 23 year history – easier to clean and to fit on a kitchen shelf. It features an easy grip handle, non-­Ã¢â'¬Âslip feet and the redesign also sees the old polystyrene insulation replaced with a layer containing New Zealand wool -­Ã¢â'¬Â which helps to keep the yogurt at the right temperature during the fermentation process.
Ah yes, the magic bit. Yoghurt, in case you didn't know, is made by bacterial fermentation of milk –  Lactobacillus delbrueckii subsp. bulgaricus and Streptococcus thermophilus bacteria to be precise. Yogurt is nutritionally rich in protein, calcium, riboflavin, vitamin B6, and vitamin B12.] It has nutritional benefits beyond those of milk due to its probiotics.
Yoghurt is not all that easy to make, you have to heat milk to 85C to'denature' the milk proteins, let it cool to 45C, add the bacterial cultures and then leave at 45C for around 7 hours to ferment. The temperatures are precise and if any naughty bacteria get in, then it will likely fail.
A Kiwi invented EasiYo in the early 1990s to make things simpler and consistent  and it's now the number one yogurt maker brand in New Zealand with half of all households having one in their kitchen. In the UK, over 600,000 yogurt makers have been sold since the brand was launched in here in 1999.
On test
It certainly is very easy. Under the frankly dubious regard of the family I mixed up one of the packs that come with the EasiYo with tepid water in the internal jar, gave it a ruddy good shake as instructed and then placed it inside what is essentially a thermos.
Boiling water goes in around the jar to the specified mark; the easy grip lid goes on and then – nothing. Leave it in the kitchen on the side for 8-12 hours, which for most people is overnight. The EasiYo system is designed to keep the mix nicely cosy throughout so giving the bacteria perfect conditions to do their bit.
I ambled down the next morning unsure what I would find, a festering pot of liquid presumably knowing my luck, but instead it was a solid pot of yoghurt the texture of a good thick whipping cream and still slightly warm. It is recommended to then put it in fridge, so I did.
Results
Tasting took place after an hour and by golly it was good! The texture was very smooth and thick and there was a hint of sourness, although I wondered about the overall sweetness. The pack of mix seems to suggest 16g of sugar per 100g and the pack was 250g in weight, so quite a bit of sugar?
YouTube revealed hundreds  of people happy with their EasiYo and who use UHT milk (it's sterilised already so need for heating first), plus some dried milk powder and a couple of spoons of existing yoghurt instead of the packs. 
We tried that and got a fairly loose yoghurt but definitely not milk anymore and with a good sour tang and of course, no sugar. We mixed it with pureed raspberries from our allotment for a delicious result. This felt a bit healthier.
Conclusion
Basically the EasiYo is marvellous, A device that uses no electricity, is robust enough to last a lifetime and which makes yoghurt – easy. As you cansoon  buy the inner jugs separate it's possible to have different flavoured yoghurts in the fridge at the same time, and there are useful mini jugs coming soon to send the kids off to school with a fresh yoghurt in their bag too.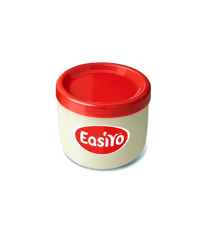 Information
There are over 30 sachet flavours to choose from, including Natural, Greek Style, Banana, Apricot, Strawberry, Lemon & Ginger Bits and Forest Fruits.
EasiYo is stocked all over the UK at retailers including QVC, Lakeland, Holland and Barrett, Wilko's, The Range, Hobby Craft and a large number of independent stores.
The EasiYo Red Yogurt Maker is priced at RRP £17.99 and each EasiYo yogurt sachet is priced from RRP £2 (per 1kg serving).
Visit EasiYo for full stockists, information and recipe ideas at www.easiyo.com.
{YOUTUBE:FKiRNU144cs}