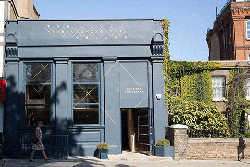 Newly opened on Haverstock Hill, a few minutes walk from Belsize Park tube, the Truscott Cellar is owned by Andrew and Mary-Jane Fishwick, who run the popular Truscott Arms in Maida Vale.
It's a warm, moody place; the dark wood and soft lighting create a relaxed, intimate vibe on both floors, and you can sit at the bar or at cosier 'box' tables, perfect for an intimate rendezvous – or just two friends catching up, because you can actually have a decent conversation without shouting; the background music and acoustics are just right – obviously a lot of thought has gone into creating the right atmosphere.
The partition that divides the bar from the kitchen advertises the numerous wines offered (a total of 380), from all over the world; many are available by the glass, so you could try a few. And that's exactly what we did! Thanks to the friendly, knowledgeable waiters, we chose a few small sharing plates with a focus on seasonal, British heritage food from head chef Aiden McGee, and were given wines to match.
We started with the braised rabbit, which was tender and a touch dry, but that didn't matter when teamed with the Muddy Water Pinot Noir, Waipura Valley – the deep, smoky flavour complemented it perfectly.
We then shared a salad: roasted squash with spelt, goat's curd and honey and truffle dressing, which was a great marriage of salt and sweet, crunch and cream. With that came the Loimer, Grüner Veltliner, floral and fruity. It was, to quote the wine list, "a Grüner for grown-ups" and was a crisp accompaniment to the deep flavours of the goat's curd and squash.
Next came the beef cheek, smoked mash and crispy shallots, which was rich and delicious, and a plate of three heritage potato-cakes from Tiptoe Farm in Northumberland: Westcombe cheddar and leek, smoked haddock and spring onion and blackened Lancashire bacon, ragstone cheese and truffle oil.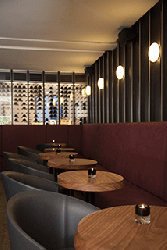 There are also choices of a meat board (with pressed English pork, potted duck and cured beef), a cheese board with four British varieties and a pig board (with pig's head, crispy belly scratchings and pig's ear). The menu details where the meat is sourced from and how it is reared and treated, so you and your conscience knows exactly what you're munching on.
There is something about nibbling on small sharing plates that makes you feel like you could go on eating all evening, then suddenly, your stomach tells you it's time to stop. But there's always room for dessert.
We had the chocolate mousse with honeycomb, chocolate soil, and maple cheesecake with blueberries and pecan crumb. Both delectably sweet and rich; the acidity of the Australian Quady Elysium Black Muscat counteracted the cloying sweetness of the chocolate mousse, while the sweet Australian Peter Lehmann Botrytis Semillon sat happily alongside the cheesecake.
A refreshing change from the chain bars and restaurants that crowd this particular North London street, the personable service, reasonably priced food and relaxed vibe make the Truscott Cellar an ideal destination for some time-out from the hectic week.