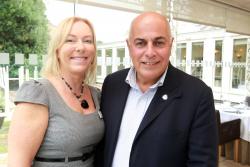 Featuring tree-lined avenues and white-washed Georgian villas, Edgbaston, known locally as'the Mayfair of Birmingham' was once the ancestral home of the Gough-Calthorpe family. Running to 114 acres, the elegant idyll is located one mile from Birmingham's surging city centre.
Led by Simpson's, first restaurant of four to gain a Michelin-star in the city, Edgbaston is emerging as a gastronomic destination. Indeed, two of the venue's alumni, Adam Bennett and Kristan Curtis, took fourth place at this year's'culinary Olympics', the Bocuse D'Or, Lyon – the highest position achieved by UK chefs.
'I saw the potential in Edgbaston 11 years ago,' said Andreas Antona, operator of Simpson's and The Cross at Kenilworth. The ex-Londoner turned adopted'Brummie' hosted a media event at the former in honour of the area.'And now it's coming of age.' Speaking next, Bernard France, Sales Director of Heritage, the Birmingham-based manufacturer of silverware to top tables internationally, praised the local catering college, which often feeds apprentices into Simpson's, as'probably the best in Europe.'
In recent years, Simpson's favourable culinary reputation has been supplemented by other independents, notably the Blue Piano (offering South East Asian cuisine, including Cambodian staple, Fish Amok), gastro-pubs, The Garden House and White Swan, and specialist delicatessens and gourmet takeaway's, the Deli@edgbaston and Scoff.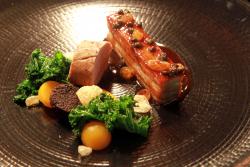 These venues will soon be joined by a new gastro-pub by Peach Pubs, fine-dining restaurant by Andy Waters (who worked with Antona), and The Edgbaston, an exclusive, three salon-strong cocktail lounge and boutique hotel. Of the latter, co-owner (with brother, Darren), Stuart Insall described the scheme, planned for December opposite Simpson's:'We've drawn on the romantic roots of the building's Victorian heritage to make a Gatsby-style experience.' Cocktails might include'Taste of Edgbaston' devised by mixologist Robert Wood. Inspired by the local flavours of the area and the Botanical Gardens, the Belvedere vodka-based cocktail unites rhubarb liqueur, elderflower cordial, Granny Smith apple, Kenilworth town mint, served alongside a rose, violet and lavender, cascading dry ice fog.
A particularly impressive orator, barrister and businesswoman, Lucianne Allen of butchers, Aubrey Allen (suppliers to Simpson's), who celebrate 80 years of trading this year, advocated a unified approach.'Share knowledge more than hide it – the last thing to think about is profit, because pursuit of profit causes you to cut corners. I like to think if I was given nine hours to cut a tree down, I'd spend six sharpening my axe. The secret of living is giving…'
In addition to dining opportunities, Edgbaston offers an 18-hole golf course, cricket ground, tennis, archery and croquet clubs, dance school, art institute and leading university.
Although G
eorge Gough-Calthorpe bought the estate over 300 years ago, the Anstruther-Gough-Calthorpe family continue his work – to protect and nurture the coherent haven of enterprise…