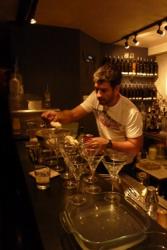 As well as being the vodka of choice for P Diddy and other incomprehensibly monikered rappers,Grey Goose regularly turns its hand to philanthropy. The latest event is their annual Winter Ball. The partner for the event is the Elton John AIDS Foundation, whose mission is to "to support innovative HIV prevention programs, efforts to eliminate stigma and discrimination associated with HIV/AIDS, and direct care and support services for people living with HIV/AIDS." Grey Goose have raised over £1.8 million for the Foundation to date. This year they have managed to bag El Bulli for the catering.
El Bulli, having long ago made the transition from mere restaurant to culinary institution, is the process of throwing off its physical shackles to become something ethereral. A culinary cephlapod extending its tentacles ever further, this is apparently the first time their food has been cooked in the U.K.
I had been invited to preview some of the culinary creations that would be gracing the event.The location was the stylish Lounge Bohemia, a small cocktail bar secreted off Great Eastern Street, behind the discrete unmarked door that is so popular among cocktail bars in London recently. Booking is by appointment only, further increasing its cachet with those craving that hit of exclusivity.
Upon arriving I was confronted with a scene reminiscent of gcse science class. Beakers and baths of various chemical solutions lined the bar with the addition of several martini glasses being an addition I wish had been made to my school days. Master of ceremonies was Paco Roncero, who having spent twelve years at El Bulli was now masterminding the food for the Winter Ball. Paco kicked off with a 'solid' cocktail. More accurately described as an alcoholic slushie, made with vodka and lychees this was textually amazing, melting in the mouth instantly.
Next I sampled the fabled spherical olive of so many El Bulli reviews, as well as a spherical ham and cheese croquette. Slipping down in a single mouthful, this was like utterly refined baby food. It offered no resistence, only pleasure.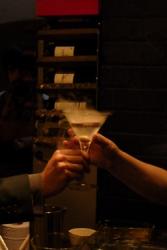 The classic martini had been given a twist with a vanilla rim, and a spherical olive at the bottom.The liquid nitrogen smoke billowing from the top added a enjoyably theatrical element. being el bulli, the vanilla pairing was the result of firing a spectrometer through the vodka. I also a liquid nitrogen frozen raspberry with a dash of wasabi that was suprisingly morish.
This and two other nitrogen cocktails will be served from an elBulli 'nitro bar' at the Grey Goose Winter Ball. There wil also be a four course meal, as well as a selection of 14 different canapés. The event also features an auction, with a bar designed by Christian Louboutin up for grabs.
The event takes place in Battersea Park on 29 October. Ticket prices start at £350, with 100% of the ticket price going to the Elton John AIDS Foundation. For more information or to book tickets, call 020 7603 9996.96.