11/12 Russell Street, Covent Garden, London, WC2B 5HZ www.tuttons.com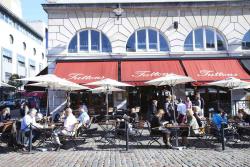 With its deeply English historical links – the former fruit and veg market designed by Inigo Jones in 1632; the Theatre Royal, Drury Lane, which has evolved out of a theatre built in 1663; the Royal Opera House which stands on the site of a 1732 theatre – Covent Garden appears to be English through and through and, surely, without any links with the New Zealand All Blacks. Not quite so.
In a somewhat shorter historical timeframe – slightly over 30 years ago – Paul Tutton set up Tuttons, a constantly buzzing restaurant and bar at the east end of the main piazza in a building built in 1886 as part of the Duke of Bedford's estate. I remember its arrival well. Working across the road in the kitchen of the then famously popular, and of-its-time-cool, Brahms & Liszt Wine Bar, we thought Tuttons was an unnecessary addition to an area that showed few signs of emerging as a focal point of London's social scene, especially as we wanted to stay centre stage. Covent Garden already had a wine bar serving good food and with an extensive wine list; how could it possibly need another?
Sadly, Brahms & Liszt disappeared, swallowed up by the redevelopment of the Royal Opera House. Tuttons lives on. And its connections with the All Blacks? Paul Tutton, who owned and operated Tuttons until 1983, now owns Waipara West Wines, an award-winning New Zealand brand, and, to celebrate the Rugby World Cup, he is renewing his connection with Tuttons by offering the first 50 diners a free glass of Waipara West Wine every time the All Blacks win a match. That's excuse enough for me to cheer them on.
And very delicious it is, too. The 2006 Waipara West Ram Paddock Red flowed out of the bottle a deep, dark red, swirling inside the glass with satisfying evidence of its full-bodiedness. A blend of Cabernet Franc, Cabernet Sauvignon and Merlot it was rich, deep and warmly spiced. After one sip, a bit of a swoosh, and a long finish I knew one glass would lead to another – which it did.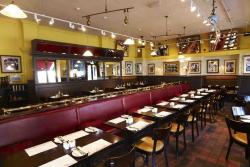 It went perfectly with Tuttons' special lamb dish, Colonial Goose (yes, very confusing), based on the classic New Zealand midwinter recipe favoured by the early pioneers in New Zealand that has been revived by Tuttons' executive chef Darren Lock to mark the Rugby World Cup. A generous portion, cheffily moulded into a circle, of slow-roasted breast of lamb rolled and stuffed with a filling of dried apricots, honey and breadcrumbs. A rich, dark thyme jus, perfectly cooked curly kale and properly made pommes boulangère were the ideal accompaniments, their colours and textures complementing each other and making me say 'wow, it looks so pretty" as the plate arrived. It was warming and filling though less fatty and drier than is typical of lamb breast; I'd have been braver and left in the fatty layers to maximise flavour.
The menu at Tuttons changes every day – all food is freshly prepared, not lorried in from afar – but Colonial Goose will be included on all the All Blacks' match days. The evening I was there, it was on the specials of the day menu, preceded by a classic Caesar salad (silvery-white anchovies, generous amounts of a good, authentic Caesar dressing) and followed by a lemon tart with crème fraiche (creamily smooth, zingily sharp from generous amounts of lemon in a rich, soft, short pastry) that met all my expectations (tarte au citron, call it what you will, is my benchmark of a pudding).
Gill, a foodie who joined me for the evening, started with a glass of the Waipara West unoaked Chardonnay then chose from the à la carte menu. Home-cured salmon came with a salad of shaved fennel and shallots but, oddly, no lemon. A generous slice of mid shires rose veal schnitzel – a dry dish, whoever cooks it – was moistened with a gloriously rich lemon and caper butter sauce (not good for the heart, but essential to lessen the starkness of the veal).
Overall, the menu is unchallenging in a something-for-everybody style that reflects the profile of Tuttons' diners: Londoners who work nearby, local residents, evening trippers like us, and tourists. We saw singletons (it's easy to be unobtrusively alone, and feel perfectly at home, here), couples, families, groups of friends and two 20-something girls in LBDs who dropped in for a slice of warm chocolate brownie with chocolate sauce and ice cream. They ate slowly but deliberately, licking lips and scraping plates, then left giving the impression that they do this regularly – which they probably do.
If the Indian summer keeps going, sitting outside is a must (but for the inevitable smokers nearby). Inside, the atmosphere is typical brasserie – dark wood, warm lighting, shiny brass and evocative black and white photos of a more glamorous recent past.
The present – specifically the Rugby World Cup – is what matters to us now. Be ready to dash to Tuttons for a free glass of Waipara West Wine if the All Blacks win the quarter final on Saturday, 9th October – and later if they make it through to the semis and final.