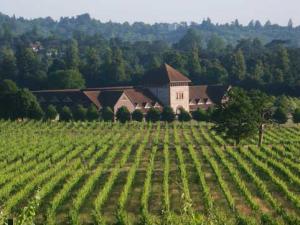 The UK wine industry is growing at an impressive rate. Based on data collected at the 2008 harvest there were 416 vineyards recorded in England and Wales with more cropping up in Scotland, Channel Islands and Ireland. Is this an indication that English wines are finally being taken seriously? Caroline Sargent talks to Julia Trustram Eve from English Wine Producers.
The vineyard landscape is changing in the UK. Hectarage under vine now is around 1350 hectares – a 50 per cent increase in the last five years alone, making land under vine the highest than ever before. The resulting volume of wines is as yet unknown as it takes approximately seven years from planting of the vines to the first wine becoming ready for sale.
Much of this acreage is for sparkling wine production, a style that the English do very well. The three grape varieties used for Champagne – Chardonnay, Pinot Noir and Pinot Meunier – account for over 40 per cent of all the varieties grown on home soil and success in various international wine competitions has helped raised awareness of both English sparkling wines and the industry as a whole.
The reasons for this boom in viticulture are down to improved knowledge and training and, inevitably, a shift in climate change.
As Julia Trustram Eve explains, 'Highly qualified grape growers and winemakers now operate in the UK sharing their expertise with English growers and vintners, who are also now much more aware of the varieties that do well over here, including more exotic aromatic and hybrid varieties that combine to make some very interesting wines.
'We have yet to undergo detailed studies in to the effects of our changing climate due to global warming, but it certainly seems to be creating some changes. Vineyards are moving further north. Where three decades ago the most northerly vineyard was in Worcestershire, now there are commercial vineyards north of York.
'In the south east we have found that we can very successfully grow Champagne varieties, and as we are just a degree or two further north of that region in France, it's no surprise that we are producing some very similar styles. There have been rumours of French Champagne houses coming over and looking to acquire land in the south east – this may yet happen!"
With conditions for growing vines and the end results getting on a par to those on the Continent, the industry faced perhaps its biggest challenge – convincing UK wine lovers that homegrown no longer meant face-contorting paint-stripper, and that it was actually really rather good.
Support from independent stores and wine merchants and increased availability across the country has helped raise awareness and establish a small but dedicated fan club. Marks & Spencer and Sainsbury's each have their own label English wines, and Waitrose alone carries a range of around 40 wines from England and Wales, available online and in regional stores. Waitrose reported a year on year increase in sales over the last three or four years and now commands around 55 per cent of the English wine market in the grocery multiples. The supermarket even planted its own 10 acre vineyard last year, with the aim to eventually produce its own sparkling wine.
Restaurants and hotels from Gordon Ramsay and The Ivy to The Ritz and The Dorchester proudly list English wine on their menus and on a more local level, a good range of English wines can be found in most farm shops, delicatessens and independent wine merchants.
So what are they like? Julia explains, 'Being a northern wine producing region our wines are going to be light and fresh in style. Our still whites are crisp, clean with a zesty acidity and ideal for this time of the year and in to the summer. They go so well with so much summer produce – think seafood, asparagus, salads, white meats etc. Our sparkling wines are already proving to be world-class and every bit as good as sparkling wines from better known regions."
Will there come a day when we reject foreign imports and become a nation of English wine loyalists? Says Julia, 'I would think that as the industry continues to grow, so more and more consumers will get to know English wines. We've had enquiries from several farmers who are looking for other ways of utilising their land – perhaps vines will become a new alternative British crop?"
English Wine Week
English Wine Week is the national campaign to raise awareness of English Vineyards and wines and runs from Saturday 29th May to Sunday 6th June 2010. The Week celebrates the quality and variety of English wines and enables you to find out more about vineyards in your area.
Vineyards across the country will be opening their doors to welcome you and invite you to find out more about their wines. Some will host special events, tastings, tours and offers. Wine merchants, delicatessens, farm shops as well as pubs and restaurants will also be highlighting English wines.
For more information and listings of what's on where, visit www.englishwineweek.co.uk