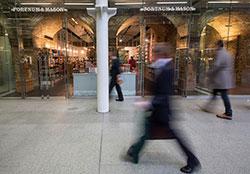 You may not have realised, but an iconic British food institution opened its second location in over three hundred years late last year. I am talking about the inventors of the Scotch egg and purveyors of fine foodstuffs and picnic hampers for the bourgeoisie. I am talking, of course, about Fortnum and Mason.
The second UK store of the fine foods stalwart is located in St Pancras International station, and aims to cater to the type of time-strapped in and out customer that a shop located in a train station inevitably must. The store offers a narrowed down range of the jams, teas and hampers you'd find in the main Piccadilly store, as well as a sit down dining area where breakfast, lunch, supper and afternoon tea are served.
I was fortunate enough to be invited to a special tasting event where we were shown around the store and given a sample menu to taste. Okay, it was advertised as a'tea party', but I hate to compromise myself by admitting that I went to an event more suited at least in name to a ten year old girl, so we'll stick to'press event'.
Fortnum's would never dream of setting up shop in a location which lacks heritage and this is evident in the new store, which once housed the original ticket office of King's Cross station. The new store has been designed to have a historical feel, with the original brick walls left in place and a large and impressive mechanical clock suspended from the ceiling with the intricate mechanics completely exposed. Hand built by the historic firm of Smith of Derby, it acts as a nod to the famous clock on the Piccadilly storefront and provides an impressive showpiece.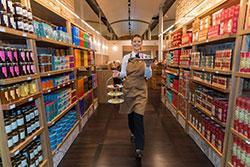 The ample space and liberal use of wood inside gives it an old world and relaxing feel, a place to retreat into and hide away from the bustle and rancour of a major train station, at least for a few minutes. It really is a very nice place to be.
But we don't care about any of that. What's the food like, you ask? Good, in a word. A selection of toast with various toppings showed off the skill of the kitchen admirably, starting with a well-seasoned and perfectly ripe avocado and basil mash. Welsh rarebit was deviously tangy and indulgent, though the highlight and, in my opinion, the one to get should you find yourself with some spare time before boarding the Eurostar to the land of frog, was the Dorset crab. Light, fresh, flavourful, well-seasoned and suspended in some sort of mayo-esque sauce, it was heaven on toast.
The (obligatory) Scotch egg was cooked perfectly, with a nicely seasoned mince, and featured a good contrast in texture between the egg and the breadcrumbs on the outside. A portion of butternut squash risotto was light and flavourful though I would have liked to have seen it wetter, but that was more than made up for by a rich and spicy braised venison with a creamy mash.
A selection of pastries for dessert was excellent but the highlight had to be a sticky little creation made from Valrhona chocolate, which, being gooey chocolate covered with solid chocolate covered with sticky chocolate, had to be the ultimate chocolate lover's dessert. Commendably, it trod the line between decadence and overindulgence very well and there wasn't too much, well, chocolate.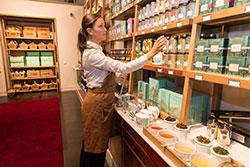 The food was good, but what is equally interesting from a food lover's perspective is the way that Fortnum's St Pancras have to make it. Because the kitchen is small and lacks the sort of extraction units that would be normally present in a commercial kitchen, the chefs have had to find a way to cook the food without resorting to much use of hobs and saucepans.
The answer is in that most modern and in-vogue method of cooking, sous vide. Cooking in a water bath produces none of the smoke and fumes that frying, for example, would so heavy use is made of the technology and not just for meat – to my astonishment, even the scrambled eggs are cooked sous vide. I was told that this produces a surprisingly smooth and creamy texture and though we weren't given any to taste being as it was the early evening, I'd have loved to have tried some.
With tea, hampers and good food, Fortnum's St Pancras is shaping up to be a worthy little brother to the Piccadilly store and the expansion doesn't end there. Fortnum's have just opened up a store in Dubai, the first outside of Britain, marking a new era of expansion for the company. Will Fortnum's end up colonising the world? I don't know, but one thing's for sure: these are exciting times for one of Britain's most iconic brands.
Unit 1A, St Pancras International Station, Pancras Road, London N1C 4QP
Tel.: 0207 734 8040
View the Fortnum's St Pancras food offerings.
Follow Fortnum and Mason on Twitter @Fortnums