10 Upper St Martin's Lane, St Martin's Courtyard, Covent Garden, WC2H 9FB  www.cantinalaredo.co.uk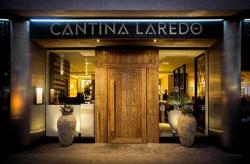 Mexican restaurants are a tough old nut to crack. There exist plenty of them, of course, but how many of them are actually turning out thoughtful, tasty plates of food is quite another matter. All too often,'Mexican' is a gimmick, a theme, a way to reel the punters in through the door whilst promising something exciting and different and under-delivering on that promise.
Cantina Laredo was not received as well as it could have been by critics when it first opened. Determined to make amends, the team have worked hard to improve the food and overall experience. It'd be a shame to waste such a prime, central Covent Garden location.
Inside, it's a perfectly nice place to be. It won't be winning any cutting edge design awards but the environment is warm and pleasant, with wood panelled walls and an impressive bar that greets you upon entering. Commendably, the management hasn't gotten greedy and crammed in more tables than the room can comfortably hold and there's ample space for diners.
The menu is an interesting read to the uninitiated. There's a significant amount of surf 'n' turf, which I am not partial to, along with tortillas, enchiladas and a solid selection of grilled meats with Mexican sauces. There's also copious use of the lesser seen skirt steak, a perfectly good cut of meat often neglected in favour of more popular cuts such as rump and sirloin, but one that your butcher will often sell you for a pittance.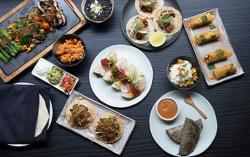 A Botanas platter to share kicks things off on the right note. There's a bit of everything and it admirably shows off what the kitchen can do. Some of the surf 'n' turf makes an appearance in the form of grilled beef, tiger prawn and vegetable skewers. I try to delay as much as possible between eating the surf and the turf due to my previously mentioned aversion to the combination, but there's no denying that everything is well seasoned, marinated and cooked.
Mini beef tacos are similarly great tasting with a fantastic smoky aroma, a good sneak peak at what I'm in for when it comes to mains, having ordered a fajita. Chile con queso has just the right amount of spice and is ideal for dipping stuff into.
Alongside the platter we order guacamole. It's Cantina's showpiece, freshly made in front of you by one of the waiting staff. We watch as our waitress scoops the avocado out of its skin and adds tomato, red onion, coriander and a spice mix before mixing it all up. It's delicious; the avocado is perfectly ripe and the coriander works wonderfully, just the thing into which to dip the accompanying tortilla chips.
The fajita can be made with chicken or beef, or both, and also with prawns. I go for the chicken and beef combination and it arrives on a sizzling hot plate, always a crowd pleaser. It's served on a bed of onions and roasted red peppers, with guacamole, with the tortillas and a portion of refried beans given separately. Everything is tasty enough though I would have liked to have seen a greater depth of flavour to the meat itself, either with more seasoning or spice; something was missing.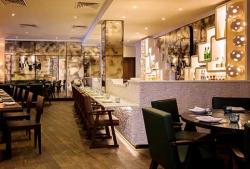 One thing's for certain: there's no skimping on the portions here. After an already filling starter this is a great deal of food. My companion has pork tacos. Presented as a set of three and with pulled pork that looks juicy and meaty it looks a treat and he comments on it very favourably.
He also orders something that I sorely regretted not going for judging by the sip I had, and that's Cantina's signature margarita cocktail which comes with blended ice to give a slushy consistency. Don't be fooled – it's much nicer than connotations of the word'slush' would have you believe. It ranks among the best cocktails I've ever had and I want to come back here just to have it.
It should have ended there. Not because the food was bad, but because there was so much of it – the portions here really are generous and even that is an understatement. Unashamed greediness bids us to order an apple pie to share for dessert.
Interestingly, Cantina also present this on a hot plate, with a scoop of ice cream on top and a portion of butterscotch sauce to pour over which sizzles furiously as it hits the metal – literally the hottest apple pie in town. The flavour is pleasant if unremarkable and the ice cream will melt into a slush (in a bad way) if you let it fall off the pie and onto the plate.
Whatever previous critics have said, Cantina Laredo certainly isn't a bad restaurant. I can't comment on the authenticity, best ask a Mexican himself, but there is much to commend here from the food to the presentation to the service. If you want to try something different, it's a solid bet. Go for the gigantic portions, stay for the margarita.