Weaving in and out of the suits that inhabit Chancery Lane is good exercise for anyone wanting to perfect their reflexes. Dodge the corporate lawyer, side-step the overpaid PA and somersault over the la-di-das who seemingly do nothing in the big glass-fronted professional officey buildings. Obviously they'll do something, what it is I don't know, but if thou keepeth going towards Holborn tube station from Chancery Lane tube station you'll arrive at Kimchee.
This trip wasn't to sample the restaurant food. No Sir. This was to have a taste of the new cocktail and bar snacks menu. Good job too, as the restaurant is packed more than a Stoke City defence… If you're not a football fan, let me tell you, that's pretty packed.
Anyhow, the downstairs is a nice big box-shaped open space. Literally, one big open box. Nicely decorated though. It's got a high-ceiling, plenty of seats and space to move around and a few tables if you'd like to sit and eat some of the messier bar snacks, but generally the comfy seats and sofas with mini-tables should be plenty for balancing a few cocktails and small plates.
It's all very dark brown inside… Different shades of brown when it comes to the sofas, stools and cushions, but the wood is a very dark brown and the slate/stone that offsets against it doesn't look ugly. It's not boring-brown brown, it's not like Charlie Brown brown, he was really boring, it was only Snoopy that made him the remotest bit likeable and even Snoopy needed the bright-yellow injection of Woodstock to make him more fun. It's more Eastern-World temple kind of brown, with trickling fountains and perhaps the odd monk or two hiding somewhere. That sort of brown.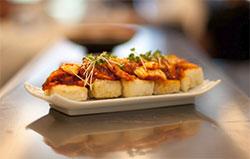 The staff are cool – every single one accepted the offered high-five and were more than helpful in explaining cocktails, dishes and throwing out a recommendation or two based on what tastes you prefer. Nobody seems dry in the place, they've got that sorted, and there aren't many loud pretentious suits – and that's pretty refreshing considering we're located deep in pretentious suit country.
On with the food – which comes sporadically as we're chugging down cocktails. I don't mean chugging like a city-boy chugging, more refined sipping than that, they just seem to be emptying pretty quickly which I guess can only be judged as a good thing. Their variation on the Bloody Mary is awesome but the spicy rice crackers and nuts have got me in the mood for proper food; bring it on.
Notable mention to the steak skewers – pretty bloody fantastic. You'd see them on a menu and think, yeah, that's a safe bet…resting in the knowledge that you're going to get some thin-sliced frying steak on a stick that's probably unseasoned. Oh no, Sir, not here. Kimchee give you a really juicy thick chunk of steak on a stick that's got the right amount of salt to make it interesting and removing any doubts that you're not getting your money's worth.
We had a lot of shrimp, probably because we ordered a shrimp platter, which had torpedo-style shrimp, popcorn-style shrimp and some pretty hefty big tiger prawns for dipping in supplied sauces. Standard sauces that you'd expect from an Eastern-World cuisine establishment, just with a little Kimchee twist on each one to up the spice and add a dash of something unknown to make you realise they like personality and originality in here. Absolutely no complaints on this food, it's fitting for bar-snacks in terms of price, quantity, taste and creativity.
I'm pretty sure we had some crispy chicken as well thrown in amongst the starters, but realistically you're not going to be disappointed whatsoever with the menu; it's spot-on. So, effectively, would I go to Kimchee again for the tasty cocktails? Yes, I would, and if hungry, there's a bar menu that's going to more than satisfy me. Cool.