A glass full of really good Champagne will transport your mood to a better place. Alan Kingsbury explores the different cuvées of a brand that deserves more attention.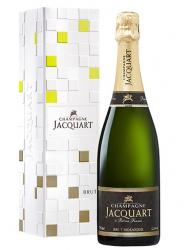 "Like a comet going through the night sky, Champagne Jacquart Mosaïc Brut NV bursts across the palate with a shower of golden stardust."
See ? It's happening already. One sip is all it takes. There really is nothing like Champagne to put the 'good' into 'feelgood'; and with our annual megaseason of prolonged festivities about to begin I'm taking a closer look at a producer that wows the tastebuds with every pop.
This year Champagne Jacquart celebrated the 50th anniversary of its foundation with a new look for its flagship Mosaïc Collection with some jazzy new packaging design giving a fresh and contemporary feel.
The 'comet-like' Brut Mosaïc NV (£26 Sainsbury's) is a classy, full flavoured all-rounder made with high quality Chardonnay, Pinot Noir and Pinot Meunier grapes.
Each cuvée of the Mosaïc range has its own distinct character, they are Champagnes for different tastes or occasions.
I love Champagne Jacquart Mosaïc Extra Brut NV (£35 Great Western Wine). Of the range it's the dryest of the dry.
A very sophisticated aperitif, lean and mineral, the Extra Brut has fine, persistant bubbles releasing biscuit and acacia notes.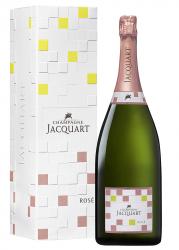 For romantics and lovers, there is the irresistable salmon-pink colour of Champagne JACQUART Mosaïc Rosé NV (£28 Sainsbury's) whose character is derived from the addition of red wine made from Pinot Noir grapes.
It's a tantalisingly dry rosé in which piquant red berry notes frolic in a playground of glowing, golden fruit.
To celebrate their 50th harvest, Champagne Jacquart have produced, a limited edition magnum of Brut Rosé Mosaïc NV (£75 Great Western Wine). It's a striking bottle, dressed to impress in the new design.
In addition to the Mosaïc collection, Jacquart produce beautiful vintage Champagnes with enhanced expressive characters.
Made entiirely from select Chardonnay grapes, Champagne JACQUART  Blanc de Blancs Vintage 2006 (£39.50 Great Western Wine) is a dynamic and excellent value cuvée whose concentrated fruit structure is enlivened by lip-smaking sweet lemon acidity and tasty bread crust aromas.
Right at the top end of the range comes  Cuvée Alpha, an exceptional vintage Champagne crafted by house winemaker Floriane Eznack which sets out to define Jacquart's presitige credentials to the world.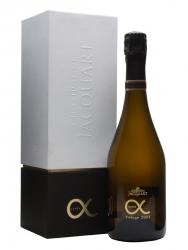 Champagne Jacquart Cuvée Alpha 2005 (£85 Great Western Wine) combines the power of Pinot Noir and the freshness of Chardonnay in a 50/50 blend of grapes from superior vineyards to deliver a high-class wine with great intensity and complexity on the palate.
With impeccable balance, the natural sweetness of dried fruits is interlaced with aromatic spice and floral notes of summer meadow to give a truly deluxe experience.
Champagnes of this quality really do need to be explored; and the Jacquart range offers genuine quality, style and value in abundance.