Fitzroy House, Abbot Street, London E8 3DP Merci Marie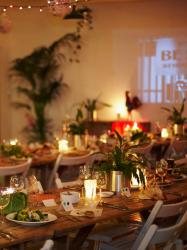 Dalston is such a holey Emmental of secret nightspots. Behind its earthy, multi-ethnic veneer are little enclaves of café, deli, and hangout that only those in the know would know. Usually this so irks me, the insidious creep of hipster monoculture obliterating what is and has always been a vibrant and varied area.
But I could make an exception for a place that's mostly known by word of mouth: Merci Marie. This is a café in an old shoe factory that's now a warehouse for dainty media companies and other creative endeavours.
Schlepp down an ominous alleyway by MaccyDs and through a more ominous carpark and up countless fire escapes and you'll eventually find it… if you're lucky. Merci Marie operates as a canteen for the building's staff through the week although others are welcome – lunches include chicken teriaki and rice for £6 or a gorgonzola, walnut and rocket sandwich. But it saves itself for Sweet Fridays where the eponymous Marie serves rustic French meals in a space that transforms to an intimate pop up supper club with only around 18 covers the night we went.
Marie Gonfond set up her venture in February 2013 to share generations of cooking she'd learned from her farmer forebears when growing up in Provence.
The Friday we visited, the room was cosy and candlelit, decorated with white drapes from the ceiling and wall projections of ariel worldscapes: deserts, mountain ranges, industrial urbanesques. Fittingly, the music was world/ambient with some cute Mississippi jazz thrown in.
Tonight was a Salt & Pepper themed evening where a variety of peppers and salts were used in the menu, first brought and shown to us by our charming waitress. Sweet Fridays can take all kinds of hues and this theme just caught Marie's fancy.
The black young pepper – long tubular structures – in the pumpkin veloute amuse bouche was powered and fragrant though the veloute was a bit watery – one of very few things under par on the menu. Japanese lemon pepper, rare and tongue-numbing, beautifully flavoured a buttersoft tuna tartare which had been iodised with capers and seaweed.
Similarly, the fruity tellicheri peppercorn from India's Malabar coast created a fine crust on the marinated cold seared beef with mizuna. I wasn't so keen on the autumn arancini main – three different riceballs of wild mushroom, butternut squash and artichoke which were a bit average although slightly improved by the smoked Welsh salt.
Got to say the salts were the lesser star. Apart from the black Mexican salty butter that coloured the pork noisette with quince main, the salts were generally less distinct than the peppers. Back to pepper: the tiny delicate balls of Madagascan pepper in the chocolate fondant were wonderful.
The other diners in what felt like a front room seemed animated: slightly Dalstonite friend groups or couples in their late 20s, and one by one, the tightknits slipped away down a succession of graffiti-inked warehouses to get out. Merci Marie for showing us the way in to a hidden gem in the Hackney maze.