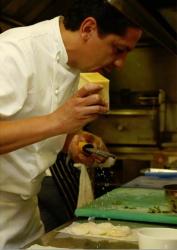 From early childhood, Francesco Mazzei could always be found in the kitchen cooking with his mother, making their own olive oil, tomato sauce, salami and bread.
He moved to London in 1996 to learn English and worked at several restaurants before starting to work at his dream hotel The Dorchester.
In 2002 Francesco was approached by the Santini family to open'Santini' restaurants in both Edinburgh and Milan. Moving back to London Francesco worked with Alan Yau as Head Chef at Yau's Italian restaurant in Marylebone, Anda; he also worked with the pastry sections of both Hakkasan and Yauatcha.
In September 2005 Francesco opened Franco's on Jermyn Street. In June 2008 Francesco Mazzei opened L'Anima. 
Francesco together with Giorgio Locatelli has been the testimonial of the Salumiamo campaign to create greater awareness and promote the wide range of Italy's finest cured meats to the British market and is also an Ambassador for Slow Food UK and the Welsh Lamb Club.
He has taken part in many other TV shows including Celebrity MasterChef, Market Kitchen and Saturday Kitchen.
Grana Padano is recognised as a Protected Designation of Origin (PDO) product, recognised and protected by the Italian State and European Union. Its PDO status means that it is essentially and exclusively linked to the particular area in Northern Italy where it is produced, inseparable from the climate, culture, and people that create it. This ensures the ultimate in quality, authenticity and traceability, making it an ideal ingredient in meals and snacks around the globe. In fact, Grana Padano is the world's best selling PDO product.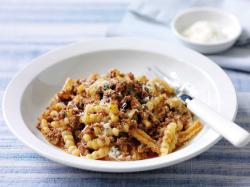 Cavatelli Pasta and Welsh Lamb Ragout with Grana Padano
By Francesco Mazzei of L'Anima
Serves 4
Ingredients:
500g minced lamb
1 stick of celery
10g white onions
10g carrots
1 clove of garlic
50ml white wine
10g herbs (rosemary, thyme, bay leaves)
5g mint
Salt and pepper to season
30g Grana Padano (use 10g for decoration)
1 table spoon tomato purée
Splash of extra virgin olive oil
Method:
Fry the minced lamb with extra virgin olive oil until golden, and put to the side
Cut the celery, onions, carrots and garlic very finely and sweat together with the rosemary, thyme and bay leaves using extra virgin olive oil in a pan for a couple of minutes
Add the minced meat and tomato purée to the pan. Reduce the white wine, and simmer for about 4-6 hours
Boil the pasta and mix with the ragout
Finish with grated Grana Padano cheese and season with salt, pepper and mint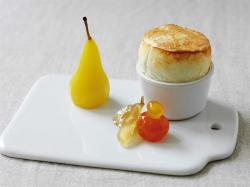 Grana Padano Riserva Soufflé with Fruit Mustard & Poached Pears
By Francesco Mazzei of L'Anima
Serves 4
For the poached pears:
Ingredients:
4 pears
1 litre water
275ml white wine
1 stick of cinnamon
2 small bags of saffron
1 tablespoon Demerara sugar
Method:
Lay the pears in a pan and cover with the water and wine 
Add the cinnamon stick, saffron and sugar and bring to the boil
Remove the pan from the heat immediately and allow to cool
Once cool, serve alongside your soufflé
For the soufflé:
Ingredients:
100ml double cream
400ml milk
25g butter
70g 00 flour
75g Grana Padano Riserva 24 months
4 egg whites
Pinch of salt
Pinch of nutmeg
Jar of fruit mustard (mostarda*)
Method:
Pre-heated the oven to 185°C
In a pan, mix the melted butter and 00 flour to make a roux
Mix in the cold milk, nutmeg and salt and bring to the boil
When the mixture reaches boiling point, remove the pan from the heat
Mix in the Grana Padano and leave to cool
Once cool, transfer to a mixing bowl and stir lightly to soften
In a separate bowl whisk the egg whites until firm, then gently fold into the roux mix
Grease 4 ramekin dishes (approx. 8cm diameter) with butter and dust with grated Grana Padano
Pour the mix into the ramekins and bake in the pre-heated oven for 12-15 minutes
Serve with poached pears and fruit mustard
* Mostarda is an Italian condiment made of candied fruit and a mustard-flavoured syrup. You will find it in Italian delicatessens and major supermarkets.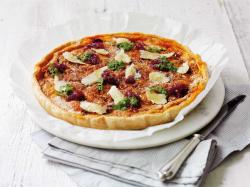 Tropea Onion, Sausage & Grana Padano Quiche
By Francesco Mazzei of L'Anima
Serves 4
Ingredients:
300g puff pastry
250ml double cream
5 whole eggs
120ml full fat milk
100g Grana Padano 16 months (use 30g for shaving)
20g'nduja salami
50g Tuscan sausage
45g red onion jam
Salt and pepper, to taste
Method:
Pre-heat an oven to 195°C
Roll out the puff pastry
Grease a 20cm diameter oven-proof dish and line with grease-proof paper
Lay the pastry on top of the paper and scatter with ceramic baking beans (or dried chick peas, if you don't have baking beans) to prevent the pastry from rising
Cook in the oven for 10-15 minutes until light brown
Remove from the oven and allow to cool; once cool, remove the beans
Turn the oven down to 150°C
In the meantime, combine the eggs, double cream, milk and 70g Grana Padano with salt and pepper, and whisk together
Break up the sausage, and dot it around the pastry case with 30g onion jam and salami
Pour the egg mix into the case and bake in the oven for 45-60 minutes– until the middle of the quiche is firm to the touch
To serve, decorate with grated Grana Padano and the remaining onion jam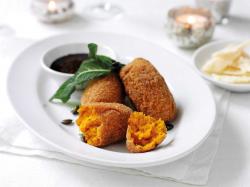 Pumpkin and Grana Padano Croquettes with Balsamic Dip
By Francesco Mazzei of L'Anima
Serves 4
Ingredients:
1 pumpkin (0.5kg)
50g Grana Padano
2 egg yolks
2 whole eggs
8 sage leaves, chopped
40g butter (melted)
60g bread crumbs
Pinch of nutmeg
15g 00 flour
Salt and pepper, to taste
Method:
Pre-heat the oven to 185°C
Cut the pumpkin in half and deseed. Score the flesh and sprinkle over the salt, pepper and sage to season
Wrap the pumpkin loosely in grease-proof paper and then foil and bake in the oven for 30-45minutes until soft
Remove from the oven and allow to cool
Once cool, scoop the pumpkin out of shell and roughly chop with a sharp knife
Put the pulp into a tea towel or muslin cloth and squeeze to remove the excess water. Ideally, leave the pumpkin to drain into the muslin overnight in the fridge
Mix together the pumpkin, grated Grana Padano, egg yolks, nutmeg, butter, salt and pepper
Put the mix into a piping bag with a 1 inch nozzle and pipe one long strip, cutting into 5cm sections
Dust the surface of the strips with 00 flour
Beat the whole eggs in a mixing bowl, and dip the croquettes in the egg mix to coat, before  immediately coating with bread crumbs
Deep fry the croquettes in a wok of olive oil heated to 190°C for 5-7 minutes until nice and brown – make sure the oil is hot before you add the croquettes, and fry just a few at once so the oil doesn't cool. Before you remove the croquettes, add 4 sage leaves to the wok and fry for a few seconds
Remove the croquettes with a slotted spoon and drain on kitchen paper
Serve in a hot dish with a sprinkle of rock salt, and with an aged balsamic dip (see below)
Balsamic dip:
Ingredients:
100ml balsamic vinegar
50ml very cold extra virgin olive oil
Salt and pepper
Method:
Mix all the ingredients together with a whisk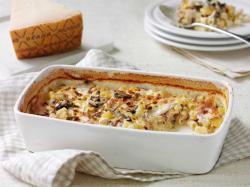 Grana Padano Tubettini Gratinati with Cooked Ham & Mushroom
By Francesco Mazzei of L'Anima
Serves 4
Ingredients:
300g tubettini pasta
500g Portobello mushrooms
80g cooked ham
70g grated Grana Padano Riserva 24 months
200ml béchamel*
100ml double cream
1 teaspoon chopped shallots
1 tablespoon extra virgin olive oil
20g butter
25ml white wine
8g chopped parsley
Salt, pepper and nutmeg to taste
Béchamel*:
220g butter
20g 00 flour
160g full fat milk
Pinch of nutmeg
Salt & pepper
Method:
Pre-heat the oven to 190°C
Cook the tubettini pasta in salted boiling water
Meanwhile, sweat the shallots with extra virgin olive oil
When the shallots are golden, add the mushrooms
Add the 25ml of white wine, and cook until the wine has evaporated
Drain the pasta from the pan once it is al dente and sauté with the mushrooms and shallots
Add half the Grana Padano and mix everything together
Stir in the béchamel* and cream
Crush the cooked ham by hand to break it up and mix in, adding the chopped parsley
Grease a casserole dish with butter and dust with some of the Grana Padano cheese
Put the pasta mix in the tray and sprinkle the remaining Grana Padano on top
Bake in the oven for 20 minutes until golden on top
Béchamel Method*:
Melt the butter, add flour and prepare roux
In the meantime bring the milk to boil and add nutmeg, salt & pepper
Add the milk gradually to the flour and make sure there are no lumps