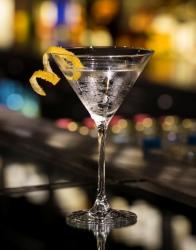 As the winter seasons begin to set in, Gaucho introduces a new cocktail and bar menu for those cold, moody evenings.  Head of Bars and Beverage at Gaucho, Ian O'Reilly, has decided to shake things up, achieving a balance between the elegant flavours of Buenos Airean classics with the cosmopolitan edge that portrays the modern, more daring palate of cocktail connoisseurs today.
"With the launch of Gaucho's new autumn/winter menu, I wanted to create a cocktail list that was both seasonal and exciting so I was naturally drawn to whisky. Whisky's versatility and ability to pack a punch perfectly reflects the quality of the Gaucho beef cuts."
New additions to the list include the Marmalade Julep made with Chivas 12yr whisky, thick cut orange marmalade, orange bitters, lemon juice, topped with Argentine sparkling wine and served in a masculine pewter tin. This blend of light whisky accompanied by sweet orange marmalade adds a sumptuous texture to the drink and similar to the new Sausage Platter, brings new, sweeter flavours to the menu.
Like the lighter dishes on the autumn menu such as the Black Scallop Ceviche and Sea Bream Tiraditos, Ian has reinvented classics such as the Martini and the G&T in the form of The Claridge – Tanqueray gin, Noilly Prat vermouth, apricot brandy and a dash of Cointreauand the Yerba 10 made with Tanqueray No. Ten gin, Yerba maté tea syrup and a touch of fresh mint, topped with 1724 South American tonic. Both cocktails are full of fresh, simple flavours that mirror the citrus and chilli elements of the new dishes.
Plus there are now fruitier options such as the Spritz Rosé – a sassy wine spritzer with light infusions of berries, a bitter sweet bite and creamy finish is the perfect apertif.
If it's just a quick bite that you're after, the new'Beef in the Bar' menu is the perfect accompanient to the new cocktails. Choose from the Aberdeen Angus Air Cured Bresola, Beef & Chilli Salami and, Chimmichurri Cured Salt Beefall packed with intense beefy flavours. 
The cocktail menu is now available in all Gaucho restaurants and Galante bar along with the new autumn menu.