Selfridges Food Hall, Oxford Street, London W1A 1AB www.tonkotsu.co.uk
I come from a vaguely Jewish family and so chicken soup was, if not venerated, at least highly respected as a cure all. The old joke, which I don't believe is racist unless you're very, very PC, is'Jewish Penicillin'.
So staggering around Selfridges with the onset of a cold and losing the will to live when faced with the hordes of shoppers all hell bent on knocking each other out the way, the sight of the Tonkotsu outlet in the Foodhall had me considering whether chicken ramen might not be just as good as chicken soup for self-medication.
There are only a few stools at this outlet and they are all fixed in place, so as usual I had a laboriously  wheezy time getting up on one, and as usual once perched found I needed something from my bag on the floor so had to get down again.
So, as everyone seems to start their conversations now, to the food. I ordered some edamame beans in the expectation they'd arrive before the ramen which they did but only just. Still they were sweet and well dusted with rock salt and a splash of Tonkotsu's own brand chili sauce made them lively.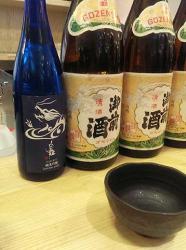 The Chili Chicken ramen I picked is apparently only sold in the Selfridges outlet and I probably don't need to tell you about ramen – for a while it threatened to outdo the burger as bloggers' favourite food – but it is basically a deeply flavoured stock heavy with fat. Obsessors get all anal about the stock and the wheat noodles and can almost come to blows when debating what is and what is not correct. I am not like that.
The noodles were good; soft bouncy and just chewy enough. The stock had the aroma of chicken fat as well the rich flavour but not too much fat thankfully; some people claim to find fat'filthy' fun but too much of it verges on the gross for me.
The classic marinated egg was slippery fun and the seaweed and mange tout all added some useful cross textures to the generous chicken meat. The only thing missing was the chili heat, I can understand though that Tonkotsu might want to err on the side of caution – you can add chili at table but you can't take it out. I added lots more from the jar only to find that by the time I got to the bottom of the bowl the chili had set up shop and was out for blood. Luckily I like chili.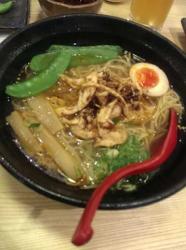 The Gyoza I ordered weren't as good as the ramen, they had only been steamed and not given the pan frying first to create the gorgeous golden crispy base that makes gyoza so great. These were really rather dull unfortunately.
However the ramen was right on the button and it was a well priced lunchtime feed that had me energised and ready to face Oxford Street again.
For shoppers who want to slurp and go, Tonkotsu has just what's needed.What's more I left feeling that Mr Cold had been sent packing and as I type this, two days later, I really think it has.  So Mazel tov!
Tonkotsu at Selfridges closes approximately 30 minutes before the store does