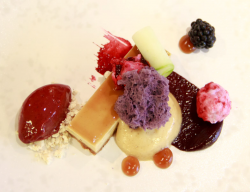 Bohemia restaurant was recently named one of the top 10 places in the UK to eat pudding by The Sunday Times Food List 2014. Head Chef Steve Smith and Head Pastry Chef Ellen de Jager share their indulgent recipe for 12 portions of Black Butter & Jersey Brandy Cheesecake.
Cheesecake Base
200g Dulcey chocolate (or milk chocolate)
300g Crunchy Valrhona praline (or Nutella)
150g Feuillentine (or Crunchy Nut Corn Flakes)
100g Toasted salted hazelnuts blitzed in a food processor
2g Smoked salt
Melt the chocolate and mix in the praline. Fold in the Feuillentine flakes, hazelnuts and smoked salt then spread it between two pieces of parchment paper and roll a thin layer into a cake tin or mould.
Cheesecake
800g cream cheese
Half tin of cooked condensed milk
5 leaves of gelatin
150g Pasteurised yolks
50g Sugar
200g Dulcey chocolate
80g Jersey Brandy
100g Black butter (or apple puree and a little bit of mixed spice and liquorice)
50g of double cream
500g Whipped double cream
Soften the cream cheese with a paddle then add the cooked condensed milk. Dissolve the gelatin in the cream. Whisk together the eggs and sugar over heat until they are white. Melt the chocolate and add to the Jersey Brandy and Black Butter. If you do not have Jersey Black Butter instead you can use apple puree and a little bit of mixed spice and liquorice.
Whisk the cream until thick and fold into the cream cheese mix. Pour over the biscuit base and chill in the fridge for 30 minutes.
Butter Spiced Jelly
400g cider
150g Jersey black butter
3 gelatine leaves
25g Jersey apple brandy
1 lemon to use for juice
Dissolve the gelatine and strain. Heat the cider and add the black butter and gelatine. Add the rest of the ingredients and set the jelly by placing it into the fridge for 30 minutes. Decorate as desired.