Town Hall Hotel, Patriot Square, Bethnal Green, London E2 9NF townhallhotel.com/corner_room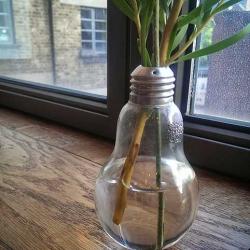 Considering that Tower Hamlets was once a byword for poverty and deprivation, the councillors always did alright for themselves. Their Town Hall was a riot of expensive woods, tiles and marble, money which surely could have been better spent on the locals? Perhaps like churches of old, the councillors wanted to be respected by the plebs, to be a little'awesome', to use the word outside of a YouTube clip.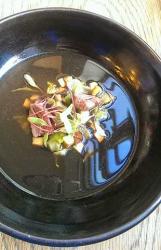 Renamed the Town Hall Hotel, because since 2010 that's what it now is, in some ways little has changed; the inside is gorgeous, the street outside is rough – a line of crappy shops selling crappy goods. Away from this main drag though the area has gone upmarket, nearby is Victoria Park where well-off media professionals have made their large and very agreeable homes.
It is these people that must eat in The Typing Room, the restaurant at the front of the hotel that's full of smart people, New New Labour at lunch, one could say. And as if that wasn't enough trendy dining for one place, upstairs at the back of the building is The Corner Room.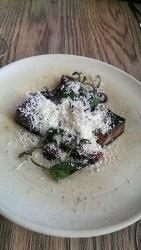 John Christie is the chef, taking over from everyone's favourite fringe Nuno Mendes, now at Chiltern Firehouse wowing the wags, and he can be seen working in a small room never designed to be a kitchen. The Corner Room itself has been tricked out with unusual lights and while it still has the slight air of the office it must once have been, it has also had East End cool embedded into it and the obligatory nice Eastern European waitress.
The food is East End modernist cool too, it's not of any particular country, it has no roots and it's good to look at. And it's well priced at £23 for three courses luring  men in cheap suits with sunray lamp tans to eat,  as well as people in civvies popping in for a spot of nosebag before going back home to finish this week's column for a Sunday magazine.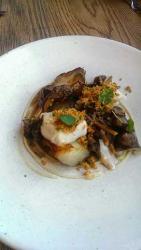 A mushroom broth has had every particle of flavour of the mushroom squeezed into it and is deeply bosky with barbecued baby gem to add some crunch and sparkle. Bobbing about are a few duck hearts, which could usefully been divided into two as one is a heavy hit. It's light and punchy and slightly scary.
J who has been admiring the lights, focuses on his treacle cured salmon, salt baked beets and grated belper knolle, which some fast smartphone work reveals to be a hard cheese infused with garlic and Himalayan salt, then rolled in cracked black pepper. He likes it all; especially the beets where salt and sweet have combined smartly.
It's all on trend; my main of a partridge is a delicate shapely leg. I soon strip the sweet meat off and then nibble it pensively down to the the bone, where even more flavour lurks. The black pudding with it is not what I expected, not English and solid but French and melted into a viscous puddle of dark blood. Very nice against the bird and shavings of parsley root,  a vegetable very similar to a parsnip in shape and texture but with a brighter flavour are a treat.
Across the table J has poached cod with Jerusalem artichoke'which causes a filthy loathsome stinking wind within the body, thereby causing the belly to be pained and tormented, and is a meat more fit for swine than men' I remind him but he doesn't care and says the whole dish is good with the cod perfect and the chanterelles charming.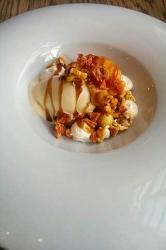 Coffee and blood orange cake with cep ice cream is bordering on gastro magic, the ice cream is just wonderful and the blood orange has given real depth of colour to the cake. Malt ice cream with candied pumpkin and popcorn is a childish dish in a good way, each ingredient playful and visually a treat.
With the cooking assured and innovative, The Corner Room can do no wrong at this price. I probably won't be back as it's not my manor, but I definitely would otherwise.