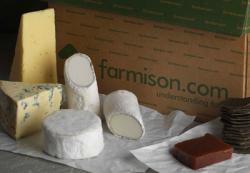 I never thought a boy from South London would ever eat lunch at The Berkeley in Knightsbridge so when the invite came to attend a launch lunch for www.farmison.com in the Koffman private room I was round there as fast as my looted trainers would carry me.
The founders of Farmison were keen to show off their range of produce usually only available to top chefs, now available to order online for all of us, and had convinced Mr Koffman to knock up some dishes for the assembled hacks. Also present was Brian Turner who many will remember from the days when there was only one cookery programme on TV and he was on it. A nice man who, along with Mark Hix, Jonnie Boer, Frances Atkins, Mark Greenaway, Eugene McCoy and many more, is endorsing Farmison products.
Farmison.com, we were told as we munched their sausages on sticks as canapés (very good too) is backed by former ASDA chief executive Andy Bond and represents over 75 of the best independent British suppliers across butchery, fruit and vegetables, and farmhouse cheese – more than 60% of which are not available anywhere else online.
There are also currently 6 different breeds of beef available on the site – more than any other food retailer in the UK and growing daily.
With access to more rare and native breeds than any other retailer, farmison.com is championing heritage farms where livestock graze outdoors and are selected for flavour over productivity – from Reg Johnson's famed Goosnargh poultry to rare breed Middle White pork from Huntsham Court Farm in the Wye Valley.
The launch menu devised by Koffman and Jeff Baker was one of small plates (yes, sigh, small plates but for practicality and not to excite Twitters) and the produce certainly lived up the hype. The Middle White Pork from Huntsham Farm was terrific and had the most wonderful crackling; partnered with cobnuts and quince it was just perfect.
I'm not usually a lamb fan, but the cannon of lamb with Puy lentils and creamed celeriac was a dish I could happily eat again. The Isle of Man Rare Breed Manx Laughton was properly pink, the celeriac creamy and Puy lentils are always a winner with me.
Beef was in the shape of cheeks, that very popular part of face these days, Native Breed Belted Galloway from Yorkshire and again extremely good. Cheeses from J. Mellis rounded off a light but luscious lunch with the Dunsyre Blue from Lanarkshire and the Golden Cross goat's cheese from Lewes being stand out.
The price of the products reflects their quality so don't be shocked when you visit the website. Even so, with delivery to your door it's one less planet warming car journey to make and the food is so good there should be no waste either.
There are a lot of online suppliers, but few if any have gathered so many products under one umbrella. Farmison.com could well become my local shop.