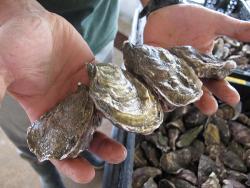 There are many varieties of decoration available to the oyster connoisseur. The adding of embellishments has been practised recurrently since the earliest discovery of the mollusc. In Northern Ireland you're likely to find the best oysters in the world, though each far-flung corner of the globe will have some proud representative willing to debate this, from Loch Ryan in Scotland to Santa Catarina in Brazil, Miyagi in Japan to Étang de Thau in France. The oyster is a well-travelled and well-debated ostreidae; the name given to true oysters from marine or brackish habitats. It's a celebrated morsel, the jewellery of mermaids.
It seems wherever you eat an oyster, it's big business. In Belfast it is the jewel of the fisherman's catch.
At Mourne Seafood Bar I underwent a shucking class, serving up oysters 'Italian' style (pesto and parmigiano baked under the grill), 'Japanese' style (fish stock, soy sauce, rice vinegar, pickled ginger and lime), 'Rockefeller' (baked with spinach, garlic, cream and pernod, topped with bacon and herb crumble) and my own personal take, involving a little grated parmigiano and truffle oil. I took the lead with that last recipe, a genius combination of two unique paired ingredients – the Mothershucking Champion of the kitchen; a lethal bite that'll have your lips trembling and your palate slapping back into your face.
But that's just one afternoon. I learn that wherever you turn in Belfast there is food to be enjoyed.
There is huge influence taken from the coast and much of the produce served in restaurants and found in the markets comes directly from the Irish Sea and the Atlantic.
"Fish has always been part of our culture", said Andy Rae, from Mourne Seafood Bar. "When they were digging up the foundations of our Belfast restaurant to put cable in, they found all these oyster shells".
St. George's Market, apart from being one of the city's oldest attractions and best markets in Ireland (the last of Belfast's thriving Victorian markets), bulges with beasts from the sea: brill, place, John Dory, cod, sea bream and monkfish are stacked in punnet upon punnet of ice, their dead, jelly-marble eyes oblivious as to whose fridge they'll be staying in tonight.
There are cheeses and meats, pickles and chutneys; homemade olive oils, spiced oils, rapeseed oils and hemp oils, flatbreads, sweet breads, yeast breads, rye breads, fruit breads and burgers. If you didn't know better you'd think that all food was developed here. There's a nerdy organic movement which is gripping the hotels and restaurants and despite an increase in chain supermarkets – I'm told there are new branches of Tesco's, Sainsbury's and the co-operative dotted around the centre and outskirts of Belfast – intrepid eaters are keeping alive artisan bakers, butchers, fishmongers and delicatessens. Attitudes and diets remain firmly fixed on local produce.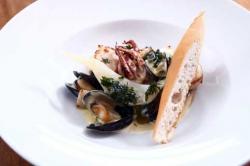 A thousand years ago people were seeking exactly the same as they do today, with a quality of meat and fish that is almost Northern Ireland's national treasure; the capital phenomenon of reared and caught produce from land and sea, each now inextricably woven into the Irish landscape and character.
Local chef, Paul Rankin, was the first chef in Northern Ireland to be awarded a Michelin star and is a tireless supporter of local produce, calling it, "Some of Europe's finest". Capitalising on local suppliers such as Irwin's Bakery, Rankin channels much of what he produces from local ingredients. The success of his bread range inspired him to develop the brand further with the launch of an Irish Sausage range and gourmet pies.
Other local chefs such as Niall McKenna of James Street South and Ciaran Steele of Molly's Yard are inspired by the strong foundations of Northern Ireland's culinary pickings. "In Northern Ireland we're definitely punching above our weight," says McKenna. "I look at certain individuals here who haven't got the respect they deserve and I hope they get it sooner rather than later."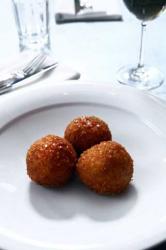 The gritty Irish coastline must be the most utilised in the British isles. Apart from the stock pulled out and sold off to restaurants and hotels, this is where the Titanic was made and launched, and then you've got the Galway International Oyster & Seafood Festival, Bantry International Mussel Fair, Kilmore Quay Seafood Festival, The Mulroy Bay Scallop Festival, Clarenbridge Oyster Festival, Kinsdale Fine Food Festival and in Northern Ireland: County Down's Festival of Fish, Hillsborough International Oyster Festival, The Taste of Tyrone Food Festival and Belfast Restaurant Week, and there are still more. The sea is celebrated.
Water is business here, it's a source; protection and landscape intertwined. Around 650km of shoreline, both wild and delicate. The mackerel appear to be following the colder waters to the north and congregating around the North Channel, then, if they're lucky, on to the teeth-chattering waters of Iceland and the Faroes. There are knobbly turbot, smooth brill and big, gawping haddock on restaurant menus, alongside Mourne Lamb, Finnebrogue venison and rare breed pork.
Pat O'Doherty's black bacon from Enniskillen, Co Fermanagh is something special. Bacon that hasn't been pumped with water and phosphates and was voted 'Best Irish Food Product' by Ballygowan food writers. And speaking of fleshy fruition, at Hannan Meats in Moira I tasted the most amazing piece of steak I've ever eaten: Glenarm shorthorn fillet, and there was 'Moyallon Guanciale', an Italian-style dry-cured pigs' cheek; fatty, flavoursome, soft in texture but with an undertone tingle of spices which won at the Great Taste Awards 2012.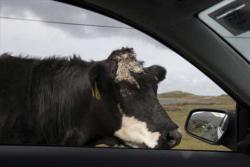 Belfast really does have plenty to offer. I haven't even mentioned the Lough Neah eels, the Ulster fry-up or Ditty's Bakery, but I don't want anyone to know. I want to keep it all. Why should I share these oysters, the black bacon and ooh, erm, the name of that steak. Ahhh, you don't need to know anyway, you'll only be taking it away from me.
If you'd like to find out more about visiting Ireland and Northern Ireland then visit www.discoverireland.com