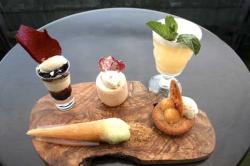 The OXO Tower Restaurant has just launched a new'Waters of Life' Scotch Whiskey tasting experience. A carefully selected range of Glenmorangie Whiskies is partnered with desserts exclusively created to match each tipple. Diego Muntoni, OXO Tower's Head Sommelier worked with Pastry Chef Penny Wabbit to select the whiskies and create the pairings.  
The whiskeys will be served in bespoke glasses and the desserts on a  wooden board. Whilst being talked through the selection, diners are invited to taste each whiskey against the chosen sweet.
'Waters of Life' opens with a Lemon and honey parfait picked to complement the sweet-dry balance of the sauterne aged Glemnorangie Nectar d'Or: a perfect palate primer for the whiskies that follow. Glenmorangie Quinta Ruba carries an intense dark chocolate flavor, brought out by the accompanying Fresh raspberries topped with walnut cream and rosemary fudge. Intent on showcasing wide variations within Scotch whiskies, the Glenmorangie Lasanta, with its strong butterscotch and spice notes, is complemented by the texture and flavours of a classic Peach and almond cake.
As the palate develops so does the intensity of the whiskies; next is the richest spirit of the selection, with notes of espresso and spices, Glenmorangie Signet is paired with a Coffee mouse and a bitter cocoa nib sponge. Finally, the oldest member of the Glenmorangie comes last. Served with a Cherry mousse wrapped in cocoa butter and smothered in toasted hazelnuts, the deep forest fruit aromas of Glenmorangie 25 Year Old finish off the experience with a bang.
Priced at £39.50 a head,'Waters of Life' is an experience not to be missed and just in time for the cooler weather. Reservations can be made via the OXO Tower Restaurant website or by calling 020 7803 3888.
OXO Tower Restaurant, Bar and Brasserie
OXO Tower Wharf, Barge House Street, South Bank SE1 9PH