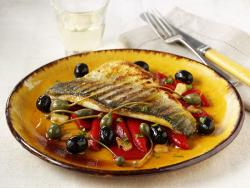 Who'd have thought it, not only did my evening with some Spanish olives at the Food at 52 cookery school provide me with a couple of decent recipe ideas, it also afforded me a view of the future. You know, the one prophesised by all those militant feminists where all but a few men are deemed superfluous and women rule the roost.
If you want to know why, just one glimpse of the dreamy Omar Allibhoy will make clear the link between his presence and the number of young ladies in attendance at this particular event. I was comfortably outnumbered by ten to one; don't worry though, it takes more than those odds to intimidate this particular writer.
In any case, I wasn't there for his looks because Omar is a proper chef; he has worked at El Bulli, his restaurant, Tapas Revolution, in Westfield Shepherd's Bush has received excellent reviews, and I was off to Seville the next morning, so I fancied starting the party a day early.
This particular evening was hosted by Olives from Spain, who had roped in Omar to demonstrate a variety of marinades for the aforementioned olives, before the very nice chap from the cookery school talked us through a couple of more of Omar's recipes, also featuring quantities of olives.
Disappointingly all the olives we used were pitted, which is not ideal from a taste point of view, but certainly makes chopping them up much easier! In any case Omar had some decent ideas to perk them up: the most enjoyable one consisting of toasted sesame seeds, some chopped mint, the zest and juice of a lemon and a good glug of olive oil.
Once the marinades had been dealt with, we moved on to cooking our dinner: chicken thighs sautéed with onions, garlic, green olives and a spot of sherry  and a very nice dish of sea bass fillets with piquillo peppers, caper berries and, you guessed it, olives, but black'uns this time.
Both of these were very good and I will certainly make the sea bass recipe again, which was as easy as you could wish and an impressive one to serve up to a group of adoring friends or family.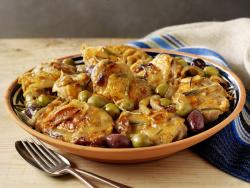 A very pleasant evening, well lubricated with plenty of Manzanilla and the company of all those ladies, was rounded off with a dark chocolate truffle, which had been flavoured with a mystery ingredient…Yes, you clever thing, got it again – a couple of spoonful's of black olive tapenade. To my slight surprise, the saltiness of the olives did add a certain je ne sais quoi to the truffles and was certainly not a token addition.
So, go forth and use as many olives in you cooking as you can. Perfect with a cold glass of Manzanilla as an aperitif, with a fillet of sea bass, and they even go well in your dark chocolate truffle!
I should also add that Omar and everyone from Food at 52 were extremely friendly, helpful and perfectly hospitable, and I will certainly make it my mission to head to Westfield for some tapas sooner rather than later.