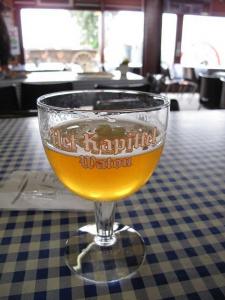 Flandres definitely has its high points and we're standing on one, the viewpoint in Cassel. This town is in fact the highest point in Flandres, which isn't saying that much as the rest of the area is as flat as Norfolk on ironing day. The narrow streets, the ones the Grand Old Duke of York marched his men up, ascend to the viewpoint and old houses en route look well up for renovation by foreigners. I made a note pf the estate agents' phone numbers, just in case the UK economy ever revives.
The town's elevated status at 176 meters lets you see forever across the countryside and the viewpoint helpfully has a pointer showing you the directions and distance of seemingly randomly selected world towns and cities. 'Hey Ernst, shall we put Bolton on? Or what about that village your mum lives in?' 'Yeh, Hans why not eh?' Somewhere over there for example is Cairo, that way is Brighton. And in that direction is Dunkerque.
You can mention the war
This last is actually telling. It was over these miles of farmland that the British army slowly retreated, after getting its disastrous kicking at the start of WW2. It's not far to Dunkerque, but when you're being shot at, strafed at and generally got at by well armed and very mobile enemy forces each field must have seemed enormous.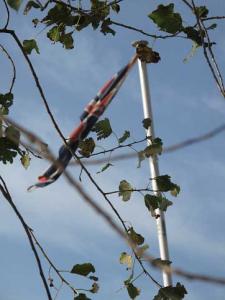 The area has seen war in all its in unglory and is a place of pilgrimage to many. In the north in Belgian Flandres are the sites of the trenches of WW1 and the sad poppy fields. Here in French Flandres hardly a town remains that wasn't bludgeoned to bits by the artillery and planes of both wars. Just about every ancient site, be it a cathedral or someone's outhouse, has been rebuilt exactly as it was before a couple of hundred pounds of TNT redistributed it across the town. Even Groundforce would have walked away from that challenge.
French Flandres is odd because it's not just the most flat, but possibly the least French, place I have ever been. Sure the locals all speak French, but every town name, every surname and every building is unmistakeably Flemish. And beer is boss here not wine.
Once upon a time every village would have had its own brewery and Estaminet, a bar linked to the brewery where the local brew could be drunk in all its glory. Today that tradition is being restarted by young brewers, such as the ones at Brasserie Thiriez in the town of Esquelbecq. From the outside this brewery building resembles a modern two car garage of the type you might find in the London commuter belt. Inside it's clean, airy and quiet with just a few people ambling about checking pressures on the fermenting vats and attaching metal handles to the mighty 2 litre bottles they sell, in addition to the regular sizes.
Backyard brewing
Daniel Thiriez the man who revived the brewery back in 1996 gave up a career in HR at a supermarket to do so (he obviously wasn't suited to being in the office Gestapo, what with liking a drink and all that) and it has been a great success. Today this microbrewer's beers are well-regarded worldwide and in the cosy little attached bar you can refresh yourself after a guided visit by sampling the range on offer. In fact it's easy to refresh yourself into a horizontal position; the stuff is tastier and stronger than our useless cooking lager that's for sure. The yeast they use is unique and the brewing methods traditional and you'll find yourselves, as we did, cheerfully loading up with a few crates to take home.
Around the corner a less cheerful site – one of an SS massacre during the retreat to Dunkirk. Here 80 wounded allied soldiers, who had surrendered through lack of ammunition, were herded into a barn and grenaded and shot in cold blood, some briefly escaping to a nearby pond where they were caught and executed. One man survived, shot in the neck and with one leg blown off he lives in England today. The locals, after the SS had left, came out and buried the dead in their own gardens and fields until they could receive a full military burial and they have made this site a discrete war memorial with 80 trees planted in memoriam. On a sunny day it's a place that still feels cold and chilly. Each year families come here to remember the dead and, hopefully, then go off to the Brasserie Thiriez to have a drink and a cheer up.
Windy miller
Lunch at the Auberge du Moulin de la Roome meant shuffling past a gang of heavily mustachiod workers having their midday feast, like the Village People on a break. Food was a selection of meats and pates, all very good indeed, as it's what they like to eat around here, washed down with, what else, but fine beer.
Our next stop is the last (allegedly) working stone (brick,actually) windmill in Flandres. The constant breeze here has always sprouted windmills, mostly of wood, in fact there were once literally thousands grinding flour and making oils. Today a handful are left to spike the horizons, and this, the Steenmeulen, is special.
Originally built in 1864 it has been rebuilt almost single handedly by Joseph Markey who really is a French Fred Dibnah. With his matching waistcoat and trousers, steam train driver's hat and bright red scarf he scuttles about like a happy boy showing you all the marvelous old steam engines, tractors and other ancient gadgets he has rescued from fields and brought back to working order. Cranking the starting handle on an old paraffin powered tractor he laughs cheerfully as with two enormous bangs it roars to life and fills the room/bar/cafe with pungent smoke.
His windmill is a wonder of mechanical engineering of the old school, wooden posts spin furiously, while drive belts of leather are slipped on and off giant wheels to engage the various tools, such as the massive stone grinders for flour or the oil seed crusher. There is even a set of gears to lift sacks up and down the height of the mill. This is pure green energy engaged in serious tasks. Joseph grinds local flour and makes oils here regularly, so keeping the mill alive as a working mill and not just as a museum piece. He's aided by a team of volunteers and his wife who watches like a proud mum as he shows his skills. In his bar cum museum, there is a chance to buy the flour, as well as a few more beers to wash down some of that flour dust in the air.
The bells! The bells!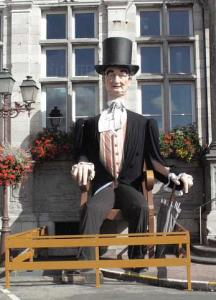 The other giants that stalk the plains of Flanders are the clock towers. They don't have large bells swung by bearded blokes 100 feet below, as we do here in the UK. Instead they have Carillons, lots of bells of different sizes struck by hammers played by a keyboard. Some are semi-electric; others use wire connections which means the (bearded) player must get up into the tower with the bells and, once he has got his breath back, play a keyboard which is basically a lot of wooden poles sticking out horizontally. These he bashes hard with his fists while at the same time pumping further poles with his feet. The poor man we saw at the top of the bell tower in Berques was in a muck sweat and looked close to death. He couldn't hear our cheering him on, or the noise he was making, because he had ear defenders but he seemed to get the idea.
Back at the bottom, we went to inspect the medieval walls and ditches that surround the town; whether to keep out invaders or to stop villagers escaping the carillon music, was not entirely clear. It's a pretty little place Berques, sleepy like most of French Flandres, but with the most magnificent cheese shop next to the bell tower. This drew my attention more than the news that a film had once been made in the town and they had the pictures to prove it, if you didn't move away quickly as I did. It was a film in Flemish presumably. In any case, it wasn't one that's been shown at the Streatham Odeon recently. The people here have folklore that giants once inhabited the land and another papier mache giant sitting on the cathedral steps looked even less impressed than I did.
Town and country
You can walk the perimeter of the town, gazing at the moat and perhaps wondering whether to chuck yourself in, and it gives you an idea of the mediaeval nature of a place that has many of the old gates still in place. If you got back late from an evening in the country back then, you'd find the doors locked and your bed in a field. Our bed that night was in Hostellerie Saint Louis about 45 minutes from the tunnel if you're driving and an impressive old place -clean and well-lighted as Hemingway would say – and only slightly let down by wallpaper in the bedrooms that was a riot of colours in a way not seen since my mum and dad's sitting room in the 1970's. Each room has a name, not a number, which led to the surreal effect of people wandering about upstairs asking passers-by the way to Gascony or Provence. Fast, unpassworded Wi-Fi and TV with BBC in the rooms was a nice modern touch.
Food here was good. The menu a bit more inventive than some and apart from some sliced smoked duck breast that had been left in the fridge so long it had ice crystals on it, not bad at all. The local fish, a pike/perch combo was particularly good. The wine, curiously labelled 'My Manor', as if made by Bob Hoskins, less so. Stick to the beer is my advice.
Stationary in London
Back to Lille station and, clanking merrily with bottles of beer, and smelling slightly of all the cheese in my bag, it was off back to St Pancras. Trains have no silly rules about what or how much you can carry, despite the fact that as terrorist targets they are much bigger than planes, and so no one cared about my noisy luggage. A few hours later I was back in London, the train really is remarkably fast, and queuing for the one ticket window open to get a train to South London. Here of course each customer seemed to think the man behind the glass was some kind of travel advisor, ready to plan their visit to London for them while we all waited impatiently and missed our trains.
So that was French Flandres, a bit like Ned Flanders really – a little odd, a little quaint but really rather likeable, especially after all those beers.
Contacts and more info:
The Auberge du Moulin de la Roome