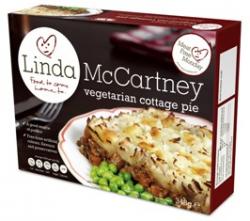 In 2008 Linda McCartney Foods became the fastest growing brand in the meat-free market, and this year has seen the launch of a number of new dishes in their range of produce. In addition to this, the company has refreshed their image and their commitment to producing foods that are free from artificial colours, flavours and preservatives.
A number of new Linda McCartney products have been introduced recently, these include: Thai Green Curry; Cottage Pie; Toad in the Hole and Farmhouse Pies. We decided to try these new products with some vegetarian friends, and for good measure, threw in a pack of the Linda McCartney vegetarian burgers. We have to report that these products were well received by vegetarians and carnivores alike.
The Thai curry had good fresh spice flavours from the coriander, galangal, Thai basil, lime and coconut: bite-sized soya chunks give the curry body. The Farmhouse Pies, of which you get two in a pack, were well filled and tasty savoury pies, again given body by soya chunks and encased in a crispy pastry. The Toad in the Hole was comprised of two vegetarian sausages, that had a far fuller flavour than many meat sausages that we have eaten in the past, sat in a batter pudding that was much as you might expect it to be. The Cottage Pie was well constructed, with a cheese topped mash sat on a mix of soya protein and vegetables in a good sauce, given a slight sweetness from the carrot in the mixture. And finally, the burgers, which had substance and body as well as excellent flavour, indeed they gained the seal of approval from the 9 year-old who was at the table with us.
These products are good substitutes for meat products if you are wishing to reduce your meat intake for dietary or ethical reasons, like for example becoming part of the Meat Free Monday campaign, which launched in June of this year, supported by a whole raft of celebrities.
You can find out more about Linda McCartney products through the company's web site www.lindamccartneyfoods.co.uk which also contains a link to the Meat Free Monday site www.supportmfm.org both have useful information. If you would like to enter our competition, which we are running with the support of Linda McCartney Foods and Meat Free Monday, you can do so by clicking the 'competition' option at the top of the page.