29-31 St. Johns Wood High Street, London NW8 7NH
www.harryms.co.uk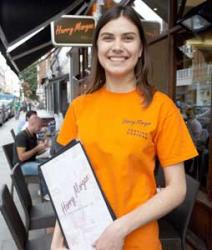 I must confess I had rather confused Harry Morgan's with Harry Ramsden's. Not living in North London I didn't know this local landmark at all. Googling it though, I found that a) it was not a chippy and b) it had apparently been the scene of one of the most vicious gunfights ever seen. More research revealed that what had really happened was that a bunch of local journos taking their children, probably called Tabitha and Toby, to eat had been witness to a gun going off. Once they had all crawled out from under the restaurant tables, they gleefully wrote 500 near identical words about their 'brush with death' and 'gang culture' for their weekly columns and then invoiced accordingly.
Wimps, the lot of them. Down in the Beautiful South if we parents hear a gun going off in a fast food restaurant we simply turn up our iPods and hope no one bleeds in the fries. Our kids, meanwhile, just shoot back.
It's a bit Jewish is Harry's, not Kosher you understand, but the accent is there. Bit of an institution too; apparently it's been here since 1948 but has since evolved into a New York Deli style place, somewhat dismaying its older customers but luring in the kind of people who want fast-food without added chav.
Coming inside from appropriately biblical rain outside, we settled down for what was billed as a Jewish Feast already. Nice clean tables, bright interior, a sense of somewhere that runs like a well-oiled machine day and night. A mezze platter is something I've always rather associated with Arabic speaking lands, a lazy assumption of course, the Middle East is many houses. I loved the grilled haloumi with its slight bite and salty tang as well the falafels, which were crunchy outside, moist within. The taramasalata was happily not the virulent pink of the supermarket version, but the tzatskiki could have had a bit more garlic in it for my taste. The hummus was a bit too creamy, I like a bit of texture in mine and a bit more tahini as well.
Chopped liver, now this I liked, and also the tuna salad, which had good hearty chunks of fish in it. I didn't have the borscht with potato, which I have to say was a bit odd looking; a bowl of red soup with an enormous comedy potato sat in the middle like an elephant in a puddle. Apparently it tasted good though. I was busy slurping up the chicken soup with noodles, a very good clear broth (not easy to achieve) and subtly salted, which is my way of saying not enough salt, but I can see why cognoscenti of 'Jewish Penicillin' vote Harry's soup the best in London. The matzo balls and dumplings were lovely.
Salt beef? I've never liked or disliked it really; it's simply not something I would seek out. This however was far better than any I have had before, except maybe in Selfridges where it was in traditional sandwich form. Moist but not wet, tender too, this was good stuff. The tongue though tasted like tongue and putting a tongue on my tongue seemed wrong. Good heimishe pickles I have to say, crispy and not too harsh with bad vinegar either. The potato latke was well fried, golden, crispy and moreish.
Hungarian goulash I ate but with a sense that I had crossed the rubicon and gone from well fed to stuffed. This meant I didn't really taste it. I couldn't even look at the stuffed cabbage and the calf's liver was also a no no. Sorry chaps.
And so I ran away, no dessert for me even though it looked good. Harry's has certainly got it right on the value for money front and the food is good, honest and tasty. The very rare risk of a gunman bustin a cap in yo 'ass apart, the biggest danger is a stroke from overeating. There are worse ways to go. Lekhaim!